In Response to COVID-19, Olympus Provides Virtual Collaboration Platform at No Charge to Support Social Distancing, Conserve Personal Protective Equipment, and Enable Real-Time Learning.
MedPresence® Telemedicine Solution Contributes to Physician Collaboration while Limiting Exposure for Staff and Patients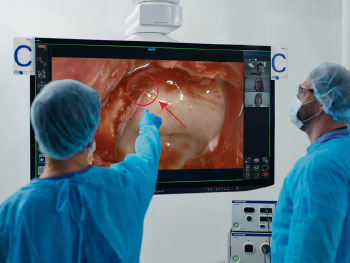 Olympus is offering healthcare organizations its cloud-based, HIPAA-compliant, clinical collaboration platform MedPresence® at no charge for the next three months. MedPresence allows physicians to consult on treatment virtually, reducing personal contact and consumption of critical PPE.
CENTER VALLEY, Pa., (April 9, 2020) – Olympus announced that it is offering healthcare organizations use of its cloud-based, HIPAA-compliant, clinical collaboration platform MedPresence® at no charge for the next three months from the time of activation. While elective surgeries are being cancelled, critical procedures must continue, including those addressing the needs of patients with COVID-19. Allied healthcare providers are facing unknowns in a very challenging environment while rapidly incorporating new learnings—the ability to consult can provide vital information-sharing to address the challenges associated with caregivers taking on new roles or learning new techniques in specialty, emergency or intensive care settings. Additionally, physicians and other healthcare staff working within the same facilities or systems must coordinate care while trying to maintain CDC social distancing recommendations and conserve critical personal protective equipment (PPE).
MedPresence provides access to real-time clinical video, such as live feed of endoscopic images and related patient health information, on a private and secure cloud-based platform, allowing experts to collaborate on treatment virtually, as if they were in the same room. In doing so, MedPresence connects physicians locally and globally to share information and ideas in real time and allows for remote consultation on treatment, thus reducing personal contact and consumption of PPE. Such virtual collaboration can help protect health care providers from the SARS-CoV-2 virus while they are administering care in their local health care facilities.
The COVID-19 pandemic has created a shortage of access to healthcare professionals. Simultaneously, the number of patients testing positive is expected to increase as more tests become available. In the U.S., states are trying to address shortages in several ways, such as allowing out-of-state physicians to practice immediately or providing retired physicians opportunities to volunteer. With MedPresence, physicians can consult with one another and collaborate virtually, decreasing the need for in-person consultation.
Unlike standard webcam or PC-based video-sharing technology, MedPresence uses clinical information from various clinical data sources, including the endoscopic medical tower used during a procedure. Using the endoscopic view from inside a patient in real-time, physicians in other locations can access the "view" of physicians at the point of care. This integrated clinical information and interactive capability allows consulting physicians to provide accurate, well-coordinated collaboration. MedPresence also provides layers of security and privacy not available in standard web-shared technology. For example, "Using telestration, a doctor in his or her living room could indicate, using a fingertip on a tablet, an area of the anatomy for specific attention," said Ross "Rusty" Segan, Global Chief Medical Officer, MD, MBA, FACS, Olympus Corporation.
In medical procedure rooms and other medical treatment locations where certain Olympus equipment is already installed (such as endoscopic image/video recorders), MedPresence installation may only require enablement of MedPresence software. A typical MedPresence procedure room or medical treatment location is equipped with one or more cameras, high-quality audio and MedPresence-compatible hardware, though multiple configurations are possible with the system. The MedPresence cloud provides remote user management, security, and advanced collaboration capabilities of MedPresence. Each virtual participant accesses and interacts with the service using a PC or mobile device.
"Telecollaboration is a recognized tool for reducing exposure to pathogens and can be effective in protecting healthcare staff as well as hospital patients," continued Dr. Segan. "Olympus wants to share our MedPresence system during this critical time in an effort to reduce risk, conserve resources, and ensure that new approaches to this disease can be made available without barrier. Together, and with the best minds and technology on the task, we will defeat this coronavirus and its tragic effects."
Healthcare facilities interested in the virtual install of MedPresence should contact their Olympus Representative or visit https://medical.olympusamerica.com/medpresence-covid-19-emergency-response.
# # #
About Olympus Medical Systems Group
Olympus is a global technology leader, focused on being true to society and making people's lives healthier, safer and more fulfilling.
Our Medical Business works with health care professionals to combine innovative capabilities in medical technology, therapeutic intervention, and precision manufacturing to deliver diagnostic, therapeutic, and minimally invasive procedures, to improve clinical outcomes, reduce overall costs and enhance quality of life for patients. For more information, visit https://medical.olympusamerica.com/ or https://olympusamerica.com/truetolife/.