Olympus Offers


FREE Use of Telecollaboration Platform


to Limit Exposure and Preserve PPE during COVID-19 Pandemic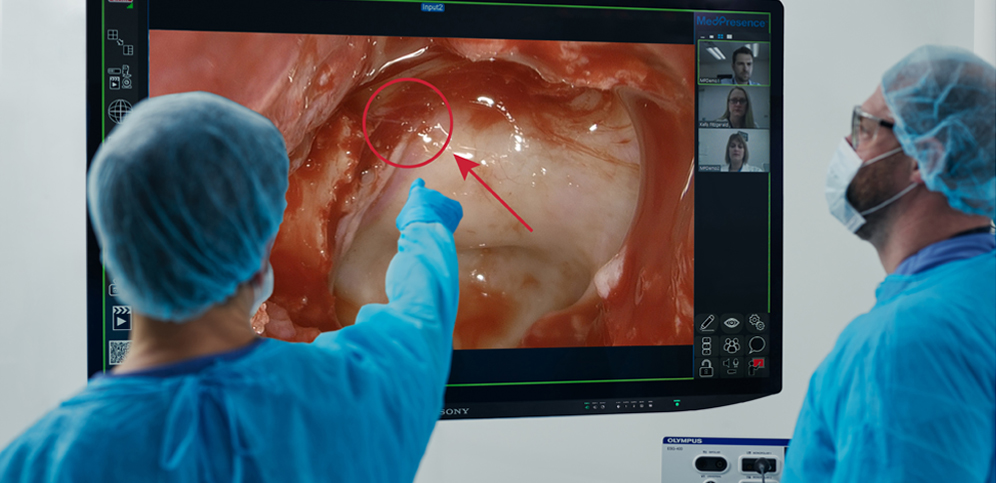 Telecollaboration in a Pandemic
MedPresence® is an enterprise medical virtual presence solution, that enables teams to quickly bring needed expertise – specialists, senior clinicians, technical experts, application trainers, or manufacturer's representatives – into a procedure space from across the organization, around the world, and at any time virtually.
"Telecollaboration is a recognized tool for reducing exposure to pathogens and can be effective in protecting healthcare staff as well as hospital patients. Olympus wants to share our MedPresence system during this critical time in an effort to reduce risk, conserve resources, and ensure that new approaches to this disease can be made available without barrier. Together, and with the best minds and technology on the task, we will defeat this coronavirus and its tragic effects."
— Ross D. Segan, MD, MBA, FACS, Chief Medical Safety Officer at Olympus Corporation of the Americas

Lower the exposure rate by enabling experts, reps, and other necessary personnel to consult virtually

With less people physically in the room, teams minimize the consumption of necessary sets of Personal Protective Equipment

Share and learn expertise from those inside and outside your facility
---
Access the Emergency Offer
If you are a current Olympus EasySuite 4K surgical integration suite and/or nCare 10 enterprise recorder customer, you can leverage your existing hardware and simply add the MedPresence software at no charge, with no obligation.
The process of adding the MedPresence software to your hardware can be done remotely without the need for Olympus sales or technical service representatives to enter your facility during this difficult time.
What are the next steps?
1‌

‌2

Prepare to involve your technical experts from Biomed and IT
Personalize with Your Technical Experts
Validated by an independent, nationally recognized security firm, MedPresence® features a fully encrypted, end-to-end security architecture to protect the integrity of sensitive information. Innovative features like automated masking of PHI, "on air" indicators, and one-button privacy mode enables real-time collaboration, while protecting patient and clinician privacy, as well as ensuring HIPAA compliance.
Olympus understands the critical role of security in our products and is committed to addressing the security concerns of our customers.
If you have product security questions, please contact the Olympus Product Security Team at productsecurity@olympus.com.

Penetration Testing

Data Subject Reports

Help Maintain Your
HIPAA Compliance
Support for MedPresence
COVID-19 Program Participants
We appreciate you trusting us during this difficult time. Here are some quick references
to help you and your team hit the ground running.


Technical Documents available upon request

Full Olympus Team of Sales Reps, Sales Engineers, and Project Managers
Additional Resources
Olympus Offers FREE Use of Telecollaboration Platform to Limit Exposure/Preserve PPE during COVID-19
Changing How Hospitals are Reducing HAI Risk
Using MedPresence with EasySuite 4K Video