Olympus Showcases Advancements and Milestones in EndoTherapy at ACG
In Last Two Years Several EndoTherapy Products Launched, Important Distribution Deals Formed, Awards Won and Resources Dedicated to Key Growth Market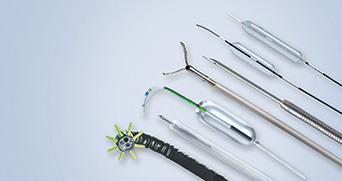 Olympus celebrates EndoTherapy innovations, awards, and growth at 2016 American College of Gastroenterology
CENTER VALLEY, Pa., (October 13, 2016) – Olympus, a global technology leader in designing and delivering innovative solutions for medical and surgical procedures, among other core businesses, announced today that at the American College of Gastroenterology (ACG) conference in Las Vegas, Nev., October 14-19, the company will be showcasing its progress in broadening its scope beyond capital equipment and visualization into the medical devices for EndoTherapy.
At the show, visitors can learn about these Olympus milestones in medical devices for EndoTherapy:
The addition of more than 10 new products to the EndoTherapy line-up in the last two years, now having been used in tens of thousands of procedures and representing an expanding portfolio of innovative products in the following specialty areas:

Endoscopic retrograde cholangio pancreatography (ERCP): StoneMasterV™ single use balloon dilator (with knife), CleverCut 3V™ Distal Wireguided sphincterotome, GLIDEWIRE® guidewire
Endoscopic ultrasound (EUS): EZShot 3 Plus™ single-use aspiration needle
Hemostasis: The NeedleMaster single-use injection needle, Coagrasper™ single-use hemostatic forceps device, and QuickClip Pro™ single-use hemostasis clip
Accessories: Cleaning Brush and PolypTraps, both CatchemTM and Wide-EyeTM models
GI Dilation: EZDilate™ balloon dilator, which represents Olympus' entry into this market
Colonoscopy: The ENDOCUFF VISION® single-use visualization improvement device
Respiratory: The ViziShot FLEX Endobronchial ultrasound-guided transbronchial needle aspiration (EBUS TBNA) device

Recognition from the Vizient Innovative Technology Program, which designated Innovative Technology Awards for the company's QuickClip Pro™ endoscopic clip.
The dedication of an Olympus sales management team to the growth of the EndoTherapy business.
New distribution agreements surrounding important EndoTherapy products including the ARC Medical ENDOCUFF VISION® and WIDE-EYE™ polyp traps, and Terumo GLIDEWIRE®,
"With certainty we can look back on 2015 and 2016 as the years that Olympus made an official expansion from leadership primarily in capital equipment to also being an established leader in EndoTherapy devices," said Kurt Heine, Group Vice President, Endoscopy Division at Olympus America Inc. "The company has been on the forefront of EndoTherapy innovations for years, which have furthered the healthcare industry's progress toward Triple Aim goals of the Affordable Care Act, of improving patient outcomes, reducing costs and improving patient satisfaction."
High-volume procedures requiring the use of GI endoscopy devices – such as colonoscopy, esophagogastroduodenoscopy (EGD) and biopsy – will be primary drivers of the U.S. GI endoscopy device market, which was valued at approximately $2.3 billion in 2014 and forecasted for moderate growth, according to the Millennium Research Group.
"With the Affordable Care Act financially incentivizing healthcare providers for improved outcomes, leading vendors in this space have had to offer more than just capital equipment to address more of a service line. Olympus has expanded their offering to a large line of instruments, consumables, and leading-edge ablation technologies. All of this has allowed providers to simplify their purchasing processes through standardization and to take advantage of consumable financing agreements," added James Laskaris, EE, BME, Clinical Analyst, MD Buyline.
The Olympus innovations and more will be showcased at ACG Olympus booth #316. For more information please call 1-800-848-9024 or visit us at http://medical.olympusamerica.com.
# # #
About Olympus Medical Systems Group
Olympus is a global medical device and precision technology leader focused on enhancing people's lives every day through innovative solutions in its core business areas of Medical and Surgical Products, Scientific Solutions, and Cameras and Audio Recorders. Olympus Corporation of the Americas – a wholly owned subsidiary of Olympus Corporation in Tokyo, Japan – is headquartered in Center Valley, Pennsylvania and employs more than 5,000 people across North and South America. For more information, visit Olympus at www.olympusamerica.com and www.olympus-global.com.