Olympus Set to Highlight EVIS X1 Endoscopy System in Latin America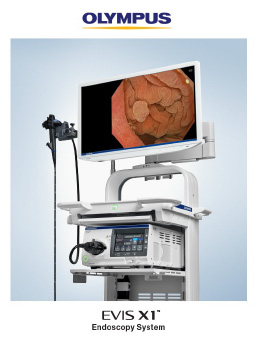 MIAMI, FL., (September 21, 2023) – Olympus Latin America announced today that it will demonstrate for the first time the EVIS X1™ endoscopy system at two major events focusing on digestive diseases. Olympus Latin America will highlight the next-generation Olympus endoscopy system during:
AMEG 2023, the annual meeting of Asociación Mexicana de Endoscopia Gastrointestinal y Colegio de Profesionistas, A.C., Sept. 23-25 in Mérida, Yucatán, and
SPED 2023, Semana Panamericana de Enfermedades Digestivas, Oct. 8-11 in Santiago, Chile.
Full market availability of the EVIS X1 endoscopy system in Latin America is expected over the course of the next year, with some countries cleared to use the device in the coming months.
"New imaging technologies help advance endoscopy, which allows us to elevate the standard of patient care in exciting ways," said Jose Gaston, President, Olympus Latin American Division. "Together with our global customer base, Olympus strives to improve patient outcomes through its most advanced solutions, offering true flexibility with a platform that grows with physician needs."
Speaking at AMEG about the anticipated patient benefits of the EVIS X1 endoscopy system will be Dr. Naohisa Yahagi, Dir. of Division of Development for Minimally Invasive Treatment, Cancer Center, Keio University School of Medicine. A similar presentation will be given at SPED by Prof. Stefan Seewald, gastroenterologist and partner of the Center for gastroenterology Hirslanden Clinic in Zurich, Switzerland. Both Dr. Yahagi and Dr. Seewald are paid consultants of Olympus.
The new family of products include the EVIS X1 endoscopy system along with two compatible gastrointestinal endoscopes: the GIF-1100 gastrointestinal videoscope indicated for use within the upper digestive tract and the CF-HQ1100DL/I colonovideoscope indicated for use within the lower digestive tract. The lightweight ErgoGrip control section of these endoscopes is ergonomically designed to provide a comfortable and stable grip and ease in reaching angulation control knobs and scope switches.1
Features of the EVIS X1 endoscopy system2 include:
Texture and Color Enhancement Imaging: TXI™ technology is designed to increase the visibility of lesions and polyps by enhancing image color and texture.
Red Dichromatic Imaging: RDI™ technology is designed to enhance the visibility of deep blood vessels and bleeding points.
Brightness Adjustment Imaging with Maintenance of Contrast: BAI-MAC™ technology is designed to correct the brightness levels in dark areas of the endoscopic image, while maintaining the brightness of lighter areas, to increase the total distance view.
Narrow Band Imaging™: NBI™ technology continues to be featured in the EVIS X1 endoscopy system. NBI technology enhances visual observation of mucosal and vascular patterns by utilizing specific blue and green wavelengths absorbed by hemoglobin.3
TXI, RDI, BAI-MAC and NBI technologies are not intended to replace histopathological sampling as a means of diagnosis. These are adjunctive tools for endoscopic examination that can be used to supplement Olympus white light imaging.
Physicians will have the opportunity to learn more about the EVIS X1 endoscopy system during other events in Latin America planned for November. Olympus plans to announce those soon.
Physicians and healthcare professionals can visit the Olympus booth at AMEG 2023 or at SPED 2023 for a demonstration. For more information, please visit the EVIS X1™ endoscopy system product page.
# # #
About Olympus Latin America
A leading medical technology company, Olympus uses innovative capabilities in medical technology, therapeutic intervention, and precision manufacturing to help healthcare professionals deliver diagnostic, therapeutic, and minimally invasive procedures to improve clinical outcomes, reduce overall costs, and enhance the quality of life for patients.
The Olympus Latin America Division (LAD) encompasses three subsidiaries within Olympus Corporation of the Americas including Olympus Latin America, Olympus America de México, and Olympus Optical do Brazil. Throughout their respective regions, each subsidiary manages Olympus' operations, distributor partnerships, and workforces in roles such as sales, marketing and support functions. For more information, visit medical.olympuslatinoamerica.com.
1 Data on file with Olympus (internal testing in 2017)
2 Data on file (D00489968)
3 Data on file as of 02/Jul/2010