Olympus Set to Demonstrate Newest Endoscopy System at DDW
The EVIS X1™ endoscopy system features two compatible gastrointestinal endoscopes and three new visualization technologies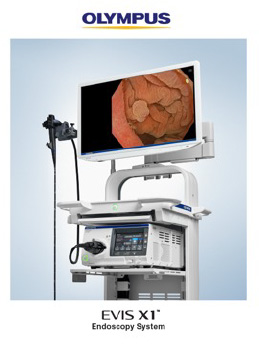 CENTER VALLEY, Pa., (May 4, 2023) – Olympus Corporation, a global medical technology company committed to making people's lives healthier, safer and more fulfilling, announced today that, for the first time in the U.S., it will demonstrate the EVIS X1™ endoscopy system, its most advanced endoscopy system, at the Digestive Disease Week (DDW) annual meeting May 6-9 in Chicago.
The EVIS X1 endoscopy system recently received FDA 510(k) clearance along with two compatible gastrointestinal endoscopes: the GIF-1100 gastrointestinal videoscope indicated for use within the upper digestive tract and the CF-HQ1100DL/I colonovideoscope indicated for use within the lower digestive tract, which will also be displayed. The lightweight ErgoGrip™ control section of these endoscopes has a rounded handle and easy-to-reach angulation control knobs and switches to accommodate users with small hands and support scope maneuverability.1
Features of the EVIS X1 endoscopy system2 include:
Texture and Color Enhancement Imaging: TXI™ technology is designed to increase the visibility of lesions and polyps by enhancing image color and texture.
Red Dichromatic Imaging: RDI™ technology is designed to enhance the visibility of deep blood vessels and bleeding points.
Brightness Adjustment Imaging with Maintenance of Contrast: BAI-MAC™ technology is designed to correct the brightness levels in dark areas of the endoscopic image, while maintaining the brightness of lighter areas, to increase the total distance view.
Narrow Band Imaging™: NBI™ technology continues to be featured in the EVIS X1 endoscopy system. NBI technology enhances visual observation of mucosal and vascular patterns by utilizing specific blue and green wavelengths absorbed by hemoglobin.3
"We are very excited to share the advancements of our newest endoscopy system with gastroenterologists at the annual DDW meeting," said Richard Reynolds, President of the Medical Systems Group for Olympus America, Inc. "As a leading MedTech company, Olympus is driven to provide cutting-edge endoscopy systems that help physicians offer their patients the best care possible."
TXI, RDI, BAI-MAC and NBI technologies are not intended to replace histopathological sampling as a means of diagnosis. These are adjunctive tools for endoscopic examination that can be used to supplement Olympus white light imaging.
Olympus encourages interested parties to visit the Olympus booth #3820 during DDW for hands-on demonstrations of the EVIS X1 endoscopy system.
Olympus will offer other hands-on demonstrations, including the TJF-Q190V duodenoscope, VisiGlide™ guidewires and CleverCut™3V™ Sphincterotomes and EndoClot® Polysaccharide Hemostatic Spray (PHS). EndoClot PHS is a powder hemostat indicated for use in combination with other conventional techniques like clips to control bleeds.
Visitors to the booth will be able to see how EndoClot PHS works, watch clinical videos, and engage with physicians to understand its use in various procedures. Olympus last year entered into exclusive agreements with EndoClot Plus, Inc. to distribute EndoClot PHS and Submucosal Injection Solution (SIS) in the U.S. and EMEA markets. EndoClot PHS and SIS products are used in gastrointestinal endoscopic procedures for submucosal lift of polyps, adenomas or early-stage cancers.
Visit the Olympus booth during DDW or the gastroenterology product page for more information on the complete GI portfolio. Information about the EVIS X1 Endoscopy System will be available on the Olympus website.
# # #
About Olympus
A leading medical technology company, Olympus uses innovative capabilities in medical technology, therapeutic intervention, and precision manufacturing to help healthcare professionals deliver diagnostic, therapeutic, and minimally invasive procedures to improve clinical outcomes, reduce overall costs, and enhance the quality of life for patients. Olympus' portfolio includes endoscopes, laparoscopes, and video imaging systems, as well as surgical energy devices, system integration solutions, medical services, and a wide range of endotherapy instruments. For more information, visit medical.olympusamerica.com.
1 Data on file with Olympus (internal testing in 2017)
2 Data on file (D00489968)
3 Data on file as of 02/Jul/2010