Olympus PK AIM Named "Excellence in Surgical Products" Awards Winner
Olympus recognized by surgical health professionals' reader-feedback for exceptional instrumentation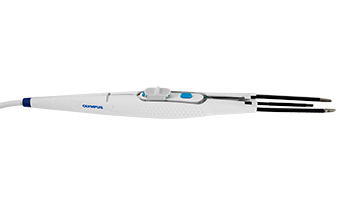 Olympus PK AIM Named 2017 Excellence in Surgical Products – Instrumentation Award Winner
CENTER VALLEY, Pa., (November 9, 2017) - Olympus, a global technology leader in designing and delivering innovative solutions for medical and surgical procedures, among other core businesses, announced today that it has been recognized with the Surgical Products' 2017 Excellence in Surgical Products (ESP) Award, distinguishing PK AIM as the winner in the Instrumentation category. This is the fourth time Olympus has been named an ESP award winner.
PK AIM, the first and only 2-in-1 advanced bipolar and monopolar hybrid device, provides surgeons with the ability to mobilize target anatomy, transect tissue, and seal and cut vessels (up to and including 3 mm), tissue bundles, and lymphatics with precision and control. The device combines the performance of both advanced bipolar forceps and traditional monopolar functionality and provides improved operating efficiency over alternative devices that do not integrate the 5-in-1 functionality of grasping, dissecting, coagulating, cutting, and sealing. Fewer instrument exchanges can help decrease procedure time and allows the surgeon to focus on the surgical site. Used in a range of procedures, PK AIM's integrated advanced bipolar energy can also reduce the need for clips and sutures, further helping to reduce procedure time.
The PK AIM was designed to positively impact the following metrics for clinical satisfaction:
Procedure Time
Surgical Field Focus
Suture/Clips Usage
Operating Efficiency
Instrument Exchanges
Hemostatic Control
Demand on OR Staff
PK AIM was conceptualized by the Olympus Surgical Technologies of America (OSTA) Surgical Discovery Team via extensive observation and interviews with surgeons and staff across a wide range of procedures. The team discovered a specific unmet need that consistently plagued surgeons and staff: the exchange of multiple devices throughout the course of a procedure for various purposes was constant and detracted from the surgical flow of the case while also adding time.
The winners of the 9th annual ESP Awards were determined by the magazines' readers, commonly surgeons who have had hands-on experience or first-hand demonstration of the innovations being nominated. Readers voted for the companies and products they felt were most deserving by selecting those that contributed most to surgical performance, efficiency and safety.
"Olympus is honored to receive this recognition from Surgical Products for the fourth time," said Randy Clark, Group Vice President of Sales and Marketing at Olympus America Inc. "The PK AIM is an exciting addition to Olympus' growing portfolio of energy solutions, developed with the patient and physician in mind. We are thrilled to provide the market with an innovative energy product that enhances clinical efficiencies."
Other Olympus products previously recognized as Excellence in Surgical Products award winners include
2016: VISERA 4K Ultra High Definition (UHD)
2013: HD 3D Video Laparoscope
2012: THUNDERBEAT
The Olympus PK AIM will be showcased for its award recognition in the November issue of Surgical Products magazine and well as in the magazine eDaily newsletter.
For more information please call 1-800-848-9024 or visit us at http://medical.olympusamerica.com.
# # #
About Surgical Products Magazine
Surgical Products is a publication for surgeons, anesthesiologists and department heads in charge of operating/emergency rooms, ICU/CCUs, infection control, OR materials management and other areas. Surgical Products has been published for 35 years, has a circulation of 55,000 and is published 10 times a year.
About Olympus Medical Systems Group
Olympus Medical Systems Group, a division of global technology leader Olympus, develops solutions for healthcare professionals that help improve clinical outcomes, reduce overall costs and enhance quality of life for their patients. By enabling less invasive procedures, innovative diagnostic and therapeutic endoscopy, and early stage lung cancer evaluation and treatments, Olympus is transforming the future of healthcare. For more information visit Olympus at www.medical.olympusamerica.com.