Olympus Holds Groundbreaking Ceremony for New Medical National Service and Distribution Center
State-of-the-art facility in Bartlett, TN will bring nearly 300 new jobs to the region
BARTLETT, TN (July 15, 2016) – Olympus, a precision technology leader in designing and delivering innovative solutions for medical and surgical procedures, among other core businesses, announced today the opening of its state-of-the-art $12 million dollar Medical East Coast National Service and Distribution Center in Bartlett, TN. The two-story, 110,000-square-foot facility will employ over 280 employees and support one of the largest concentrations of medical device growth in the country. The new facility is scheduled to be completed by April, 2017.
To mark the start of the construction project, executives and employees from Olympus, Chris Woods Construction and the Renaissance Group gathered at the building site for a ceremonial groundbreaking event on July 14th, 2016. The event was also attended by notable Tennessee politicians and business leaders including Allen Borden, Assistant Commissioner, Tennessee Department of Economic and Community Development; A. Keith McDonald, Mayor, City of Bartlett; Mark Luttrell, Jr., Mayor, Shelby County; and John Threadgill, President, Bartlett Area Chamber of Commerce.
"The new facility in Bartlett further enables our Company's main priority of meeting the ongoing and changing needs of our healthcare customers," said Joe Doherty, President of Olympus Surgical Technologies America (OSTA). "It will also position our Company well for future growth and prepare us for increasing advances in our technology."
Bartlett and the greater Memphis area is already home to an existing Olympus R&D and manufacturing facility, which has been operating successfully since 1984. Bartlett was selected for a variety of reasons, including the growing medical device industry in the area, significant advantages in shipping logistics, and its close proximity to a large number of customers in the eastern US.
"We look forward to creating more than 280 jobs in the area and hiring talent who will play an integral role in providing world-class service to our healthcare customers," said Nacho Abia, President and CEO of Olympus Corporation of the Americas. "We are fully committed to meeting the Affordable Care Act healthcare reform goals of improving clinical outcomes, reducing overall healthcare costs, and enhancing patient satisfaction."
Chris Woods, President of Chris Woods Construction added, "We are thrilled to be working with Olympus, one of the world's leading medical device companies, on this project. We foresee a great team effort as we complete this project."
The Bartlett facility will be Olympus' second national service center with the company's first such facility located in San Jose, CA. The new facility will operate as a service and distribution center for a variety of medical equipment and devices such as endoscopes, surgical devices and generators. The medical business generates more than 75% of Olympus's revenue and develops unparalleled medical equipment that empowers healthcare professionals to more easily and effectively diagnose and treat diseases.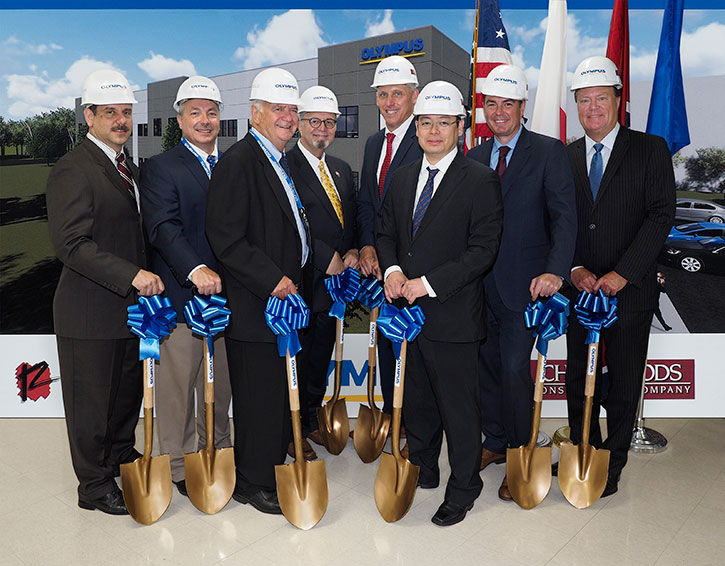 Breaking ground on the new $12 million Olympus facility in Bartlett, TN. Pictured from left to right: Dan Scalzo, VP Service Engineering & Repair Olympus; Michael Terry, SR VP and Partner Renaissance Group; Chris Woods, President, Chris Woods Construction; Keith McDonald, Mayor City of Bartlett; Joe Doherty, President, Olympus Surgical Technologies America; Takeshi Oue, EVP, Olympus Surgical Technologies America; Nacho Abia, President, Olympus Corporation Americas; Allen Borden, Assistant Commissioner of TN Economics & Community Development
# # #
About Olympus Surgical Technologies America
A member of the world-wide Olympus group of companies, Olympus Surgical Technologies America was created in April 2012 to consolidate the North American-based research & development and manufacturing of acquired Gyrus ACMI Inc. facilities under Olympus. Olympus Surgical Technologies America is a proven technology leader in the field of minimally invasive surgery (MIS) device development and manufacturing, and has facilities located across the United States. For more information, visit www.olympus-osta.com.
About Olympus
Olympus is a precision technology leader, designing and delivering innovative solutions in its core business areas:
Medical and Surgical Products: Gastrointestinal endoscopy, minimally invasive surgical
products and accessories
Life Science Imaging Systems: Advanced research, clinical/educational microscopes, and research/educational digital imaging systems
Industrial Measurement and Imaging Instruments: Industrial research, engineering, test, inspection and measuring instruments
Cameras and Audio Products: Digital cameras and voice recorders
Through this technology, Olympus contributes to society every day by making people's lives healthier, safer and more fulfilling. For more information, visit Olympus at www.olympusamerica.com.