Olympus Awarded an Innovative Technology Designation for Fourth Consecutive Year by Vizient, Inc.
2016 Recognition of VISERA 4K Ultra High Definition Surgical System and ENDOCUFF VISION Recognized by Hospital Experts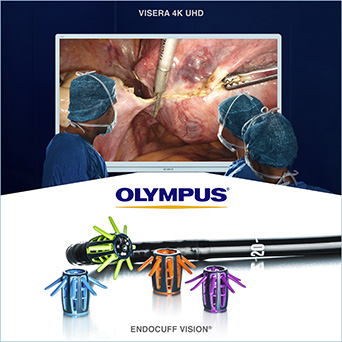 Olympus products are awarded Vizient Innovative Technology designations for the fourth consecutive year, with the VISERA 4K Ultra High Definition Surgical System and ENDOCUFF VISION® for endoscopy.
CENTER VALLEY, Pa., (November 28, 2016) – Olympus, a global technology leader in designing and delivering innovative solutions for medical and surgical procedures, among other core businesses, announced today that two of its products were awarded Innovative Technology designations by Vizient, Inc., the largest member-driven health care performance improvement company in the country. The products awarded were the VISERA 4K Ultra High Definition (UHD) "Big Screen" surgery video system and the ENDOCUFF VISION® endoscopic device. The coveted designations were based on direct feedback from 1300 onsite clinical experts and healthcare providers who attended the Innovative Technology Exchange at Vizient's Clinical Connections Summit.
About Olympus' Two Products Awarded the Vizient Innovative Technology Designation:
VISERA 4K UHD is a state-of-the-art Big Screen surgical video system that delivers 4x the resolution of HD (3840×2160 pixels) with better light and wider color spectrum, helping to better visualize anatomical patterns so that surgeons can operate with increased precision and confidence. The only fully integrated 4K imaging chain available for healthcare, VISERA 4K UHD brings OR personnel closer to the operating field through a 55-inch display of live, magnified anatomical features – providing more visual information to the entire surgical team. It's improved handling of the red spectrum can help better differentiate bleeding from anatomy in as many as 20 million laparoscopic and arthroscopic surgeries per year.
ENDOCUFF VISION® is the second generation, single-use device designed to improve visualization for certain endoscopic procedures such as colonoscopies. Placed on the distal tip of a colonoscope, its unique hinged arms fall flat against the shaft of the scope to reduce slippage during forward advancement. During withdrawal, the arms flare out and stabilize the tip, gently stretching the mucosal surface to allow the physician thorough inspection of the anatomy during the search for polyps.
"We are very pleased to receive this recognition from Vizient. Olympus strives to address the Triple Aim goals of Affordable Care through our innovative technology," said Todd Usen, President, Olympus Medical Systems Group at Olympus Corporation of the Americas. "Improving quality of care, reducing costs and enhancing patient satisfaction are important goals that can be attained if physician and nurse experience is heeded, and with the careful application of research and development toward meaningful advancements."
"Due to the number of products and services being released and marketed as 'innovative', member hospitals truly value the peer-review system in place at Vizient to help them identify products worth further evaluation at their own facilities," said Debbie Archer, director of procurement and leader of Vizient's Innovative Technology program for suppliers. "After a review of the Olympus VISERA 4K UHD system and the ENDOCUFF VISION, Vizient's members agreed these products offer unique and incremental benefit over other products available on the market today, and recommended them for an Innovative Technology designation."
These new designations mark Olympus' fourth consecutive year to have a product recognized by Vizient. Other products receiving Innovative Technology designations include:
2015: QuickClip Pro Endoscopic Clip and PCF-H190DL/I Slim Colonoscope with ScopeGuide
2014: Diego ELITE Multi-debrider, BF-P190 Bronchoscope and 3D versus Robotic Surgery Cost Comparison Calculator
2013: HD 3D Laparoscopic Surgical Video System
These designations will identify the Olympus products within Vizient's online contract catalog as Innovative Technology. This heightened visibility will encourage further consideration by members accessing these agreements.
# # #
About Olympus Medical Systems Group
Olympus Medical Systems Group, a division of global technology leader Olympus, develops solutions for healthcare professionals to help improve clinical outcomes, reduce overall costs and enhance quality of life for patients. By enabling less invasive procedures, innovative diagnostic and therapeutic endoscopy, and early stage lung cancer evaluation and treatments, Olympus is transforming the future of healthcare. For more information, visit Olympus at medical.olympusamerica.com.