Olympus Announces Live Webinar on ENDOCUFF VISION®
Dr. Seth Gross explains the art of unfolding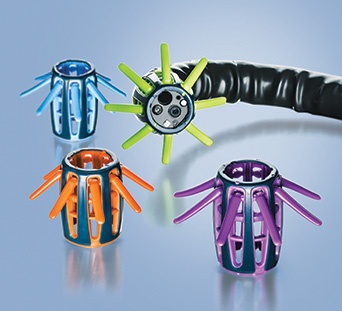 CENTER VALLEY, Pa., (November 28, 2017) – Olympus, a global technology leader in designing and delivering innovative solutions for medical and surgical procedures, among other core businesses, announced today it is hosting an upcoming live webinar entitled "The Art of Unfolding – ENDOCUFF VISION®", presented by Seth Gross, MD. The webinar will be presented on December 7, 2017 at 5:00 PM EST.
ENDOCUFF VISION® is a 510(k) cleared, second generation, single-use device designed to give an optimal view of the entire colon throughout a colonoscopy procedure. Placed on the distal tip of a colonoscope, its unique hinged arms fall flat against the shaft of the scope to reduce slippage during forward advancement. During withdrawal, the arms flare out and stabilize the tip, gently stretching the mucosal surface to allow the physician thorough inspection of the anatomy during the search for polyps.
Colorectal cancer (CRC) is the second most common cause of cancer-related mortality. ENDOCUFF VISION has been shown to improve adenoma detection rates which at times, can be precursors to cancer. For each 1% increase in adenoma detection, there is a 3% reduction in the risk of interval cancer and a 5% decrease in the risk of a fatal interval colorectal cancer.
Dr. Gross will discuss the stability, control and efficient intubation ENDOCUFF VISION delivers as well as how the device's mechanical detection can assist physicians in decreasing the rate of missed adenomas.