Olympus Adds HANAROSTENT to EndoTherapy Portfolio through Exclusive Distribution Agreement
Partnership with M.I. Tech Brings Strategic Roll-Out of Globally Recognized Medical Products to the U.S. Market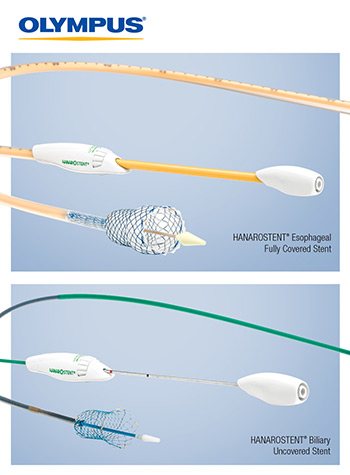 HANAROSTENT® Biliary uncovered stent and HANAROSTENT Esophageal fully covered stent are 510 (K) cleared devices made by M.I. Tech and now distributed exclusively through Olympus in the U.S. Both are used for the treatment of strictures and to improve quality of life.
CENTER VALLEY, Pa., (May 21, 2018) – Olympus, a global technology leader in designing and delivering innovative solutions for medical and surgical procedures, among other core businesses, announced today an exclusive agreement to distribute the HANAROSTENT®. Olympus has joined forces with M.I. Tech, a global leader in stents and other devices designed to improve patient quality of life. This agreement leverages company synergies in disease focus areas, while also leveraging Olympus' robust EndoTherapy portfolio. The 510(k) cleared HANAROSTENT Biliary and HANAROSTENT Esophagus will be the first of multiple self-expanding metal stents to be rolled into the Olympus EndoTherapy portfolio for advanced procedures.
"We are confident in the hundreds of stents and other products in our portfolio that are already providing quality of life benefits to patients all over the world," said Jin-Hyung Park, CEO at M.I.Tech Co. Ltd. "Olympus is an ideal partner for us because of its trusted brand in the U.S. medical space. The company's expertise and insight with strategic introductions of devices will be invaluable. We look forward to a mutually beneficial relationship."
"Many patients who benefit from the HANAROSTENT are faced with end-stage diagnoses," said Kurt Heine, Group Vice President of the Endoscopy Division at Olympus America Inc. "Palliation of strictures through the HANAROSTENT can help improve their quality of life. Olympus is pleased to bring these unparalleled stents, used globally, to physicians and patients in the U.S."
The 510(k) cleared uncovered biliary stent and fully-covered esophageal stent will bring clinical differentiation to the existing luminal patency market. Both stents provide:
A unique wire structure: hook-cross nitinol design allows for optimal radial and axial force to facilitate controlled expansion, conformability to anatomy, and segmental compression for minimized foreshortening.
Anti-migration benefits due to a flared-end design.
Precise placement: 4 unique gold radiopaque markers at the center of the stent allow for accurate placement at the middle of the stricture site, as well as an additional 8 gold radiopaque markers on the proximal and distal ends for further visualization.
Repositioning or recapture functions: the biliary stent can be fully recaptured, marked by a red "point of no return" on the device handle. The esophageal stent is easily repositioned with a lasso on both the proximal and distal ends.
The HANAROSTENT Biliary uncovered stent comes available in 13 different sizes, with unique lengths to more accurately target different strictures; a commonly used 6cm size, as well as new 5cm and 7cm length options. The HANAROSTENT Esophagus comes available in 8 different sizes, with 8cm and 15cm length options.
According to recent MarketsandMarkets™ research, "Gastrointestinal / GI Stent Market by Type," the global market for stents is projected to reach USD 452.6 Million by 2022 from USD 353.4 Million in 2017, at a CAGR of 5.1% during the forecast period. HANAROSTENT, a device with global recognition in the medical community, is the first M.I.Tech device of many slated for strategic roll-out in the U.S. through this new relationship with Olympus.
Olympus will market and sell HANAROSTENT through its existing U.S distribution networks in GI. Over time, Olympus and M.I. Tech will work together to identify an appropriate pathway for other globally significant M.I. Tech products to be taken from the regulatory process through to U.S. launch, leveraging Olympus' established channels.
This agreement will be highlighted and HANAROSTENT stents showcased at Society of Gastroenterology Nurses and Associates (SGNA) in Orlando, FL, May 20 – 22 at booth 801 and Digestive Disease Week (DDW) in Washington, D.C., June 2-5, 2018 at booth 2833.
To learn more about the HANAROSTENT, please contact Olympus at 1-800-848-9024.
# # #
About Olympus Medical Systems Group
Olympus is a global technology leader, crafting innovative optical and digital solutions in medical technologies; life sciences; industrial solutions; and cameras and audio products. Throughout our nearly 100-year history, Olympus has focused on being true to society and making people's lives healthier, safer and more fulfilling.

Our Medical Business works with health care professionals to combine our innovative capabilities in medical technology, therapeutic intervention, and precision manufacturing with their skills to deliver diagnostic, therapeutic and minimally invasive procedures to improve clinical outcomes, reduce overall costs and enhance quality of life for patients. For more information, visit medical.olympusamerica.com.
About M.I. Tech
M.I.Tech Co., Ltd. develops, manufactures and provides self-expandable metallic stents as a leading company in the field of interventional medicine. Since 1991 with its headquarters in Pyeongtaek, South Korea, the company has provided and upheld worldwide a superior standard of less invasive palliative treatment. By utilizing years of accumulated know-how and maintaining the global standard, our full range of gastrointestinal and airway stents are being manufactured under the strict quality management system, ISO 13485:2003, to satisfy the quality demands from our customers and to fulfill our mission, Create the Health. For more information visit M.I.Tech at www.mitech.co.kr
---
i https://www.marketsandmarkets.com/Market-Reports/gastrointestinal-gi-stent-market-167758126.html