Mourning the Loss of James Casey: Olympus Friend and CRCA Champion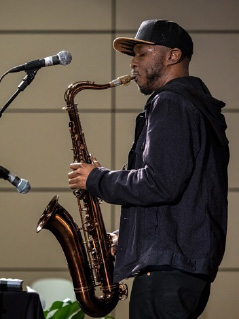 CENTER VALLEY, Pa., (August 30, 2023) – It was with great sadness that Olympus Corp. of the Americas (OCA) learned of the passing of James Casey, a musician, friend and fearless advocate for colorectal cancer awareness.
In November 2021 at the age of 38, James was diagnosed with Stage III colorectal cancer (CRC) which would progress to Stage IV. A saxophonist with the Trey Anastasio Band, he continued to perform and began work on his long-time dream of a solo album all while undergoing treatment.
James partnered with Olympus to become a vocal advocate for CRC awareness, highlighting the need for screening and the importance of learning and sharing one's family health history. He learned there was a history of cancer in his family, including CRC, only after his diagnosis.
As part of Colorectal Cancer Awareness Month in March, James participated in a live event held at OCA's Center Valley headquarters during which he shared a CRC awareness video and video preview of his solo album, "The Kaua'i Project."
During the event, he offered everyone a frank warning about colon cancer and the importance of preventive screenings: "I promise you that you don't want to deal with this. It is the worst."
Olympus remains committed to raising awareness around CRC and will use initiatives like our Facebook Live interview with James and his CRC awareness docu-short to educate others.
James had enormous talent and died from this preventable disease at far too young an age. He will be missed by everyone who was touched by his music and message.
We want to thank James for his music, his words and his unrelenting courage.