Sur-Catch Cross Paired Wire Baskets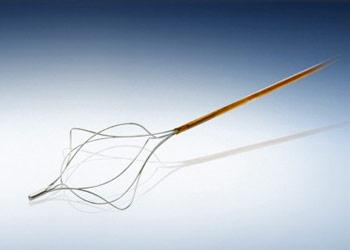 Stone Retrieval
Sur-Catch Cross Paired Wire Baskets
Olympus Sur-Catch® Cross Paired Wire Baskets have a unique cross-paired wire design that features round wires for minimal tissue trauma, high radial strength for ensured manipulation in restricted anatomy, proximal scoops for easy stone capture, and distal retention wires to prevent stone escape. The baskets are supported by reinforced sheaths that have lubricity for easy passage, torque response for precise manipulation, and distal flexibility for access into the most challenging anatomy. An ergonomic handle and patented locking mechanism provide exceptional control and enhanced security during every step of the procedure. The baskets are available in an advanced tipless nitinol configuration or a traditional stainless-steel design in a variety of sizes and lengths.
---
Key Benefits
Radial strength: Cross-paired wire construction provides radial strength for manipulation in restricted anatomy.
Large scoops: Generous proximal scoops facilitate easy stone capture.
Improved stone collection: Crossed distal wires prevent inadvertent stone escape.
---
Product Support
Olympus retrieval products deliver precise control and versatile performance, helping to simplify stone removal while minimizing patient trauma, reducing procedure times, and improving patient outcomes. The broad array of Olympus retrieval products are designed to meet the unique challenges presented by each patient and each case.  Olympus retrieval products include: Sur-Catch® Cross Paired Wire Baskets, Sur-Catch® NT No Tip Nitinol Baskets, SurLok™ Flat-Wire Stone Baskets, and SurLok™ Stone Grasping Forceps. For detailed specification or to determine the appropriate device for your needs, please contact customer service for assistance.
Olympus Training & Proper Use
Olympus Continuum, is a comprehensive platform of education and training experiences led by healthcare experts from around the world. Learning opportunities include hands-on courses, online learning, lectures and workshops, peer-to-peer training, accredited continuing education, and on-demand learning.
For more information: Olympus Continuum Video