RocaFlow Fluid Management Tubing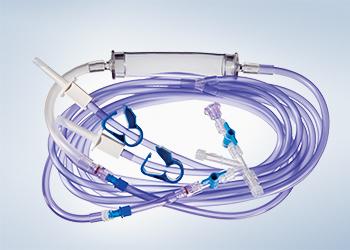 Fluid Management
RocaFlow Fluid Management Tubing
Designed specifically for use with the RocaFlow Fluid Management System, RocaFlow Ureteroscopy and TURP Tubing is designed to facilitate safe and effective pressure maintanence throughout the operative field. The Ureteoscopy Tubing features TraxerFlow technology, offering a 360° rotating luer-lock for connection to any Olympus Endoscope and a collection chamber for increased manual irrigation. All tubing is equipped with 2 spikes for use with the dual chamber pump and RFID seal plugs for compatibility and safety. 
---
Key Benefits
Specifically compatible with RocaFlow Fluid Management System
TraxerFlow technology allowing for increased manual irrigation while maintaining isostatic pressure
RFID Seal Plugs for procedure detection and safe pressure sealing
Product Support
Olympus Training & Proper Use
Olympus Continuum, is a comprehensive platform of education and training experiences led by healthcare experts from around the world. Learning opportunities include hands-on courses, online learning, lectures and workshops, peer-to-peer training, accredited continuing education, and on-demand learning.
For more information: Olympus Continuum Video
---