RocaFlow Fluid Management Tubing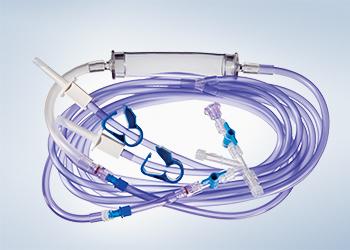 Fluid Management
RocaFlow Fluid Management Tubing
Designed specifically for use with the RocaFlow Fluid Management System, RocaFlow Ureteroscopy and TURP Tubing is designed to facilitate safe and effective pressure maintanence throughout the operative field. The Ureteoscopy Tubing features TraxerFlow technology, offering a 360° rotating luer-lock for connection to any Olympus Endoscope and a collection chamber for increased manual irrigation. All tubing is equipped with 2 spikes for use with the dual chamber pump and RFID seal plugs for compatibility and safety. 
---
Key Benefits
Specifically compatible with RocaFlow Fluid Management System
TraxerFlow technology allowing for increased manual irrigation while maintaining isostatic pressure
RFID Seal Plugs for procedure detection and safe pressure sealing
Product Support
Olympus Training & Proper Use
Olympus offers a variety of educational opportunities for medical and surgical healthcare professionals. 
Peer-To-Peer Training
Our Professional Education Program provides multiple types of peer-to-peer training in order to meet the specific educational needs of physicians and nurses focused on the safe and effective use of Olympus products.
Olympus University
Olympus Professional Education also offers training programs through Olympus University (OU). Geared toward nurses, reprocessing technicians and biomeds, many of the OU courses are available for nursing contact hour continuing education credit.
Visit Olympus University
---