OES Pro Telescopes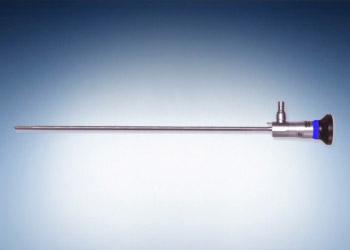 Telescope
OES Pro Telescopes
Olympus 4 mm Telescopes feature renowned Olympus optics and quality craftsmanship to deliver superior surgical performance and durability. With fields of view ranging from 12° to 110°, Olympus telescopes are designed to meet every clinical need for the field of urology.
---
Key Benefits
High optical quality
Outstanding durability
Two-year autoclavability guarantee
Compatible with previous Olympus cystoscopes and resectoscopes
---
Product Support
TELESCOPE MODELS (Telescopes are delivered with instrument tray WA05990A):
A22000A: 4 mm, 0° direction of view, autoclavable
A22001A: 4 mm, 12° direction of view, autoclavable
A22002A:4 mm, 30° direction of view, autoclavable
A22003A: 4 mm, 70° direction of view, autoclavable
A22004A: 4 mm, 110° direction of view, autoclavable
A22005A: 4 mm, 30° direction of view, wide angle, autoclavable
WA20021A: 4 mm, long, 12° direction of view, autoclavable
WA20023A: 4 mm, long, 70° direction of view, autoclavable
Olympus Service & Repair
Olympus offers a broad range of services to healthcare professionals and to our customers, including contact hour and peer-based training courses; information, training tools and videos on infection control and reprocessing; authorized repair services and support on Olympus equipment; and financing solutions to help your facility with acquisition of new capital equipment, accessories, and maintenance plans.
Need Help?
Cleaning, Disinfection & Sterilization
The proper cleaning, disinfection, and sterilization of Olympus equipment is equally as important as their proper use. 
Olympus Training & Proper Use
Olympus offers a variety of educational opportunities for medical and surgical healthcare professionals. 
Peer-To-Peer Training
Our Professional Education Program provides multiple types of peer-to-peer training in order to meet the specific educational needs of physicians and nurses focused on the safe and effective use of Olympus products.
Olympus University
Olympus Professional Education also offers training programs through Olympus University (OU). Geared toward nurses, reprocessing technicians and biomeds, many of the OU courses are available for nursing contact hour continuing education credit.
Visit Olympus University