OES Hysterofiberscope HYF Type 1T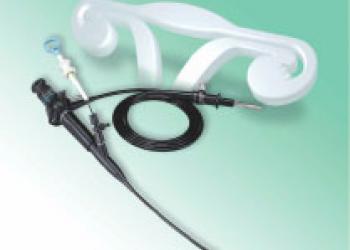 Fiber Hysteroscope
OES Hysterofiberscope HYF Type 1T
Today, advances in flexible fiberoptic technology have led to new and unique designs of flexible endoscopes. Olympus, a leader in flexible scope technology, has developed a flexible hysteroscope for both diagnostic and therapeutic procedures; the HYF-1T OES Hysterofiberscope. This scope provides specific advantages over rigid hysteroscopes in outpatient settings most noticeably in patient comfort.
---
Key Benefits
Flexible design allows user to easily observe all areas of the uterine cavity with minimal scope movement
Proprietary fiberoptic image bundle produces exceptional image resolution and brightness.
Wide 120° field of view provides user with direct vision of both tubal ostia simultaneously.
Angulation of 120° up/down tip deflection enhances entire uterine cavity visualization through easy tip manipulation.
Large working channel of 2.2 mm allows usage of larger flexible hand instruments.
Product Support
Products Specs OES Hysterofiberoscope HYF Type 1T
Optical System
Field of View
120°
Direction of View
0° Forward Viewing
Depth of Field
2-50 mm
Insertion Portion
Distal End Outer Diameter
4.5 mm
Insertion Tube Outer Diameter
4.9 mm
Working Length
290 mm
Instrument Channel
Channel Inner Diameter
2.2 mm
Minimum Visible Distance
5 mm
Bending Section
Angulation Range
Up/Down 120°
Total Length
590 mm