NeedleCut3V Needle Knife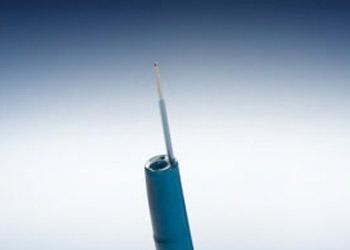 Knives
NeedleCut3V Needle Knife
Single-use Olympus NeedleCut3V Triple Lumen Needle Knives are specifically designed for incision of the papilla of Vater prior to ERCP. The triple-lumen design facilitates cannulation after incision without requiring that the catheter be exchanged. Full separation of the injection lumen and guidewire lumen allows contrast media to be smoothly injected with a guidewire in place.
---
Key Benefits
Tapered tip design for smooth insertion: The  tip is tapered to facilitate insertion into the papilla while keeping the incision as small as possible.
Excellent visibility under fluoroscopy: The tip of the sheath features a marking made of a highly radiopaque material that enables easy confirmation of the device tip position under fluoroscopy.
Pre-curved tip for easier knife positioning: A pre-curved distal end  on the needle knife provides stable cannulation capability.
CleverCut coating for enhanced safety: The unique coating on the KD-V451M knife model helps to prevent inadvertent deep incisions.
Product Support
Olympus Training & Proper Use
Olympus Continuum, is a comprehensive platform of education and training experiences led by healthcare experts from around the world. Learning opportunities include hands-on courses, online learning, lectures and workshops, peer-to-peer training, accredited continuing education, and on-demand learning.
For more information: Olympus Continuum Video