iTind
Leave
Nothing
Behind
iTind, a temporarily implanted nitinol device, delivers rapid relief of BPH symptoms through a minimally invasive treatment.
iTind is placed in a straightforward procedure that can be performed in an office or outpatient setting. The device is placed in the obstructed prostatic urethra in a folded configuration. The super-elastic nitinol struts expand at the 12, 5, and 7 o'clock positions, reshaping the tissue to better allow urine flow.
Patients are able to return home during the 5 to 7 day treatment, at the end of which the device is completely removed.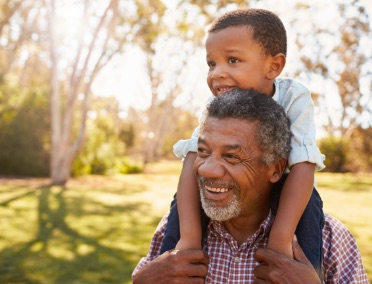 Six Reasons to Choose iTind

Quality of Life

Rapid Symptom Relief

Straightforward Office Procedure

Preserves Sexual Function and Continence

Durable Results

No Catheter Required
Additional Benefits
For Patients
No cutting or heating prostate tissue
No permanent implant
No side effects from prescription drugs
No need for an uncomfortable catheter
Recover in the comfort of your own home
For Physicians
Short learning curve
True in-office procedure — ability to perform the procedure with a flexible cystoscope in the office.
Ability to adjust device placement during implantation
Ability to treat high and/or tight bladder neck
For Facilities
No overnight hospital stay
In-office procedure
No additional capital investment required
One size solution
"The iTind is a great new option for men looking for a less risky way to manage their BPH symptoms. It's straightforward and comes with no side effects, so it's a win-win for the doctor and the patient."
— Dr. Jonathan Warner, Emanate Health Foothill Presbyterian Hospital (Glendora, CA)
"The risk is very minimal, and the advantage is great. I can void my bladder [pee] and am no longer bothered by the constant feeling that I need to use the toilet, which is very disruptive to your life. I'm happy with my choice and think this treatment is remarkable."
— iTind Patient in Los Angeles, California
Take the International Prostate Symptom Score (IPSS) quiz
to see if your symptoms could lead to BPH.
TAKE THE QUIZ
Patient Frequently Asked Questions
How does the iTind treatment work?
Your doctor will place the iTind in your prostatic urethra using a small camera called a cystoscope. You will relax at home while the device gently reshapes your prostate to allow for better urine flow. After a week, your doctor will completely remove the device.
How do I know if the iTind treatment is right for me?
Together with your urologist you will review your symptoms, routine and lifestyle needs. The iTind procedure is a new alternative to prescription drugs or surgery, and is ideal for sexually active men who want a minimally-invasive treatment that preserves a high quality of life.
Is the procedure painful?
Most patients experience only mild to moderate discomfort while the iTind is in place.
When will I feel results?
Most patients start to experience symptom relief right after removal of the device. Symptoms typically continue to improve over the following 6 to 12 weeks.
Will the procedure affect my sexual function?
The iTind is designed to preserve the integrity of sperm ducts and sphincters. Clinical studies have demonstrated that iTind patients will have no change in ejaculatory and erectile functions following the iTind procedure.
What are the risks?
There are no known long-term risks associated with iTind.
Are there any side effects after the treatment is complete?
In clinical studies there have been no indications of long-term adverse side effects. Since the iTind device is completely removed after it has done its job to widen the opening at the prostatic urethra, there is no risk of implant migration, encrustation, or tissue overgrowth that could complicate removal. Moreover, there are no obstacles in maintaining a regular prostate screening program, including physical exams or any type of imaging, such as MRI, if needed.
Is the treatment permanent?
Since iTind is not a permanent implant, all alternative treatments, like Plasma, can be considered in the future.
Where is the iTind treatment available?
iTind is FDA Cleared for use in the United States and is also approved for use in the European Union, UK, Israel, Australia and Brazil.
---
Olympus offers a versatile portfolio of Plasma electrodes that
allow for flexibility and unparalleled precision.
LEARN MORE ABOUT PLASMA
Clinical Results and Publications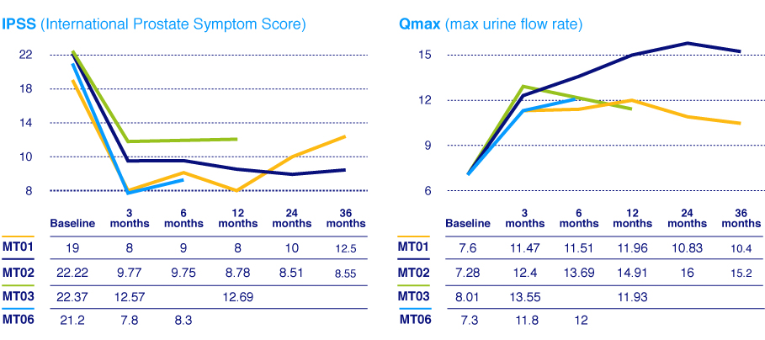 MT01 - 12 months (View Abstract)
Porpiglia, et al. Temporary implantable nitinol device (TIND): a novel, minimally invasive treatment for relief of lower urinary tract symptoms (LUTS) related to benign prostatic hyperplasia (BPH): feasibility, safety and functional results at one year of follow-up. British Journal of Urology International. 2015.
MT01 - 36 month (View Abstract)
Porpiglia, et al. Three year follow up temporary implantable nitinol device (TIND) implantation for the treatment of benign prostatic obstruction. British Journal of Urology International. 2018.
MT02 - 12 months (View Abstract)
Porpiglia et al. Second-generation of temporary implantable nitinol device for the relief of lower urinary tract symptoms due to benign prostatic hyperplasia: results of a prospective, multi-centre study at 1 year of follow-up. British Journal of Urology International. 2018.
MT02 - 24 months (View Abstract)
Kadner et al. Second generation of temporary implantable nitinol device (iTind) in men with LUTS: 2 year results of the MT-02-study. World Journal of Urology. 2020.
MT02 - 36 months (View Abstract)
Amparore et al. 3-Year results following treatment with the second generation of the temporary implantable nitinol device in men with LUTS secondary to benign prostatic obstruction. 2020.
MT03 (View Abstract)
Chughtai et al. The iTind temporarily implanted nitinol device for the treatment of lower urinary tract symptoms secondary to benign prostatic hyperplasia: a multicenter, randomized, controlled trial. 2020.
MT06 (View Abstract)
De Nunzio et al. Urinary and sexual function after treatment with temporary implantable nitinol device (iTind) in men with LUTS: 6-month interim results of the MT-06-study. 2020.
---
Reimbursement
For complex or case-specific assistance, customers may opt-in to the iTind Reimbursement Case Management Program. Under this program, third party Case Managers can assist with payer prior authorizations and appeals.

Services Include
Assistance with case specific payer pre-determination/prior authorization requirements.
Assistance with case specific claims appeal requirements.
Review of medical documentation material being submitted to the payer.
Sharing of sample communication materials (e.g., medical necessity or prior authorization requests).
Communication with the provider and payer to resolve reimbursement issues for on-label use only.
Effective October 1, 2020 the New Tech APC Code C9769 may be used to bill for the iTind Implantation Procedure.
For general inquiries, Olympus has established a Reimbursement Helpline.
Phone: (877) 325-8300
Email: iTindReimbursement@olympus.com
Hours: 9:00 am – 5:00 pm Eastern Time
Read press releases, latest news and download images
on our Olympus Medical Media Center
LEARN MORE
Stay up to Date
Please sign me up to receive Olympus Marketing Emails, including more information on iTind.