Polygrab Tripod (FG-600U)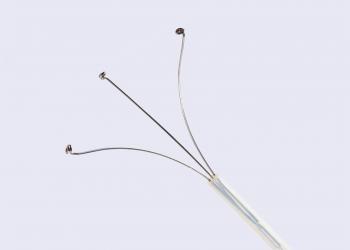 Forceps
Grasping Forceps / Retrieval Baskets
Polygrab Tripod (FG-600U)
The Olympus Polygrab™ Tripod grasping forceps feature an advanced 3-prong configuration in a convenient, single-use design. The forceps' wide opening maximizes grasping capability, and the innovative ringed tip design helps to minimize tissue damage.
---
Key Benefits
Advanced tripod design: The grasping section incorporates a tripod design with wide opening prongs and ringed distal tips for excellent retrieval capability.
Ringed distal tips: The prongs' innovative ringed tip design helps minimize tissue damage.
Convenient packaging: Each single-use Polygrab Tripod is sterile packaged for convenience and efficiency. 
Product Support
MODEL FG-600U
Working Length: 230 cm 
Opening Width: 20.0 mm
Minimum Channel Size: 2.8 mm 
Grasper Design: Tripod
Package: Sterile
Use: Single use
For detailed specifications, please contact customer service for assistance.
Olympus Training & Proper Use
Olympus offers a variety of educational opportunities for medical and surgical healthcare professionals. 
Peer-To-Peer Training
Our Professional Education Program provides multiple types of peer-to-peer training in order to meet the specific educational needs of physicians and nurses focused on the safe and effective use of Olympus products.
Olympus University
Olympus Professional Education also offers training programs through Olympus University (OU). Geared toward nurses, reprocessing technicians and biomeds, many of the OU courses are available for nursing contact hour continuing education credit.
Visit Olympus University