Polygrab Tripod (FG-600U)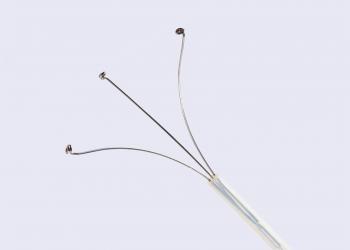 Forceps
Grasping Forceps / Retrieval Baskets
Polygrab Tripod (FG-600U)
The Olympus Polygrab™ Tripod grasping forceps feature an advanced 3-prong configuration in a convenient, single-use design. The forceps' wide opening maximizes grasping capability, and the innovative ringed tip design helps to minimize tissue damage.
---
Key Benefits
Advanced tripod design: The grasping section incorporates a tripod design with wide opening prongs and ringed distal tips for excellent retrieval capability.
Ringed distal tips: The prongs' innovative ringed tip design helps minimize tissue damage.
Convenient packaging: Each single-use Polygrab Tripod is sterile packaged for convenience and efficiency. 
Product Support
MODEL FG-600U
Working Length: 230 cm 
Opening Width: 20.0 mm
Minimum Channel Size: 2.8 mm 
Grasper Design: Tripod
Package: Sterile
Use: Single use
For detailed specifications, please contact customer service for assistance.
Olympus Training & Proper Use
Olympus Continuum, is a comprehensive platform of education and training experiences led by healthcare experts from around the world. Learning opportunities include hands-on courses, online learning, lectures and workshops, peer-to-peer training, accredited continuing education, and on-demand learning.
For more information: Olympus Continuum Video