EZDilate™ Inflation Device (MAJ-1740)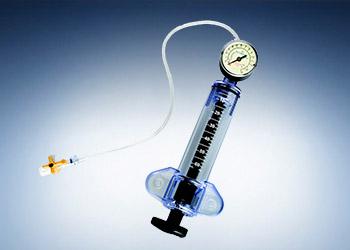 Balloons
EZDilate™ Inflation Device (MAJ-1740)
Precise, gradual inflation. Rapid, simple deflation.
The syringe-style, single-use inflation device for the EZDilate Multi-Stage Endoscopic Balloon Dilator supports precise, gradual inflation of the EZDilate. Through its locking mechanism, balloon pressure and diameters are maintained during dilation without any need to continually reinflate the balloon. Its intuitive design includes a simple plunger locking mechanism that maintains consistent vacuum pressure for rapid, controlled deflation.
---
Key Benefits
Minimal set up and single-use features promote efficiency both before and after the procedure.
Effectively maintains pressure during dilation procedure due to its locking mechanism.
Supports rapid deflation through its quick two-step deflation technique.
Syringe-style design permits very precise, gradual inflation.
Glow-in-the-dark pressure gauge allows for easy identification of target pressures.
Product Support
Syringe Volume: 60 cc
Maximum Pressure: 15 ATM
Package: 1 per box, sterile
Use: Single use

Olympus® Service & Repair
Olympus offers a broad range of services to healthcare professionals and to our customers, including contact hour and peer-based training courses; information, training tools and videos on infection control and reprocessing; authorized repair services and support on Olympus equipment; and financing solutions to help your facility with acquisition of new capital equipment, accessories, and maintenance plans.
Need Help?
Cleaning, Disinfection & Sterilization
The proper cleaning, disinfection, and sterilization of Olympus equipment is equally as important as their proper use.
Olympus Training & Proper Use
Olympus Continuum, is a comprehensive platform of education and training experiences led by healthcare experts from around the world. Learning opportunities include hands-on courses, online learning, lectures and workshops, peer-to-peer training, accredited continuing education, and on-demand learning.
For more information: Olympus Continuum Video