EVIS EXERA II (TJF-Q180V)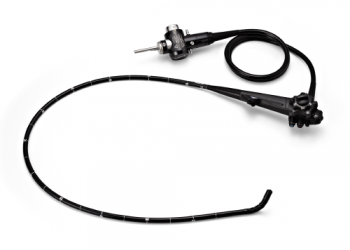 Video Duodenoscope
EVIS EXERA II (TJF-Q180V)
The EVIS EXERA II TJF-Q180V provides sufficient guidewire locking for both 0.025" and 0.035" guidewires. This dual locking mechanism delivers a new level of control.
---
Key Benefits
Narrow Band Imaging® (NBI): NBI is an optical image enhancement technology that enhances the visibility of vessels and other tissue on the mucosal surface.
Excellent Image Quality: The TJF-Q180V incorporates a high-resolution CCD that delivers the sharp, clear images Olympus is known for, is displaying them in a large screen size for easy viewing.
Dual locking mechanism: Unique dual locking mechanism for efficient short guidewire exchange in combination with dedicated V-System™ ERCP devices. The shape of the V-Groove has been changed to facilitate improved guidewire locking, enabling secure locking of 0.035 inch and 0.025 inch guidewires.
Product Support
Channel Width: 4.2 mm
Working Length: 1240 mm
Field of View: 100°
Direction of View: Backward side viewing 5°
Depth of Field: 5-60 mm
Outer Diameter: 13.7
Outer Diameter Insertion Tube: 11.3
Max Angulation Up: 120°
Max Angulation Down: 90°
Max Angulation Right: 110°
Max Angulation Left: 90°
Olympus Service & Repair
Olympus offers a broad range of services to healthcare professionals and to our customers, including contact hour and peer-based training courses; information, training tools and videos on infection control and reprocessing; authorized repair services and support on Olympus equipment; and financing solutions to help your facility with acquisition of new capital equipment, accessories, and maintenance plans.
Need Help?
Cleaning, Disinfection & Sterilization
The proper cleaning, disinfection, and sterilization of Olympus equipment is equally as important as their proper use. 
Olympus Training & Proper Use
Olympus offers a variety of educational opportunities for medical and surgical healthcare professionals. 
Peer-To-Peer Training
Our Professional Education Program provides multiple types of peer-to-peer training in order to meet the specific educational needs of physicians and nurses focused on the safe and effective use of Olympus products.
Olympus University
Olympus Professional Education also offers training programs through Olympus University (OU). Geared toward nurses, reprocessing technicians and biomeds, many of the OU courses are available for nursing contact hour continuing education credit.
Visit Olympus University
Frequently Asked Questions
Who can we speak with to train our staff on reprocessing endoscopes properly?
You can contact our Technical Assistance Center (TAC) at 1-800-848-9024, option 1. The TAC department can assist in answering questions on TJF-Q180V cleaning and reprocessing and obtaining additional copies of the TJF-Q180V Reprocessing Manual and supplemental educational materials.
Olympus also has dedicated field personnel, called Endoscopy Support Specialists, who visit customer sites to assess and observe customer reprocessing methods and to provide reprocessing training and education. If you would like an ESS to visit your facility to review and train on TJF-Q180V cleaning and reprocessing instructions, please request a site visit by calling our TAC department at 1-800-848-9024, option 1. Your Olympus sales representative can serve as a resource in assisting you in obtaining reprocessing information.
What are the steps required to ensure this endoscope is cleaned correctly?
Please follow every step in the current safety and reprocessing manual for the respective endoscope. As an additional reminder, automated endoscope reprocessors require manual cleaning completion before the endoscope is loaded in the AER.
How is the reprocessing process different?
The inside cover page of the TJF-Q180V Reprocessing Manual lists changes including:
Precleaning and manual cleaning are now required even when using an Automated Endoscope Reprocessor (AER)
Updated parameters for ethylene oxide gas sterilization cycles
Changes to the leakage test by extending the observation for bubbles through the instruction to, "Observe for approximately 30 seconds while deflecting the bending section of the endoscope by turning the endoscope's UP/DOWN and RIGHT/LEFT angulation control knobs to confirm that there is no location on the endoscope from which a continuous series of air bubbles emerges. Then observe for additional 30 seconds while raising and lowering the forceps elevator by moving the endoscope's elevator control lever to confirm that there is no location around the forceps elevator from which a continuous series of air bubbles emerges during the 30 seconds."
This is not an exhaustive list of changes. It is important that you review the new TJF-Q180V Reprocessing Manual in detail.
What specific actions are taken during the annual inspection?
Olympus performs the following checks during the Annual Inspection:
Check for foreign materials around Forceps Elevator
Check for deterioration in the adhesive of Light Guide Lens
Check the water tightness of the sealed part of Forceps Elevator
Check for the wear in the shaft of Forceps Elevator
Replace Distal End Plastic Cover and some parts of the Angulation Rubber
After inspection, Olympus provides feedback to the customer regarding the inspection results.
February 24, 2016 Customer Letter
Support
Olympus Technical Assistance Center (TAC)
1-800-848-9024 option 1
For assistance in answering questions on TJF-Q180V cleaning and reprocessing and obtaining additional copies of the TJF-Q180V Reprocessing Manual and supplemental educational materials.
Media Inquiries
Mark Miller
Vice President, Corporate Communications
Olympus Corporation of the Americas
mark.miller@olympus.com
484.896.3020

FDA Duodenoscope Surveillance Sampling and Culturing Protocol
In February 2018, the U.S. Food and Drug Administration (FDA), Centers for Disease Control and Prevention (CDC) and American Society for Microbiology (ASM) Working Group on Duodenoscope Culturing published a Duodenoscope Surveillance Sampling and Culturing Protocol as a quality control measure of the adequacy of duodenoscope reprocessing. Olympus was a participant in the Working Group and the development of this Protocol. This Protocol provides recommendations for healthcare facilities that choose to implement duodenoscope microbiological surveillance sampling and culturing. Olympus intends to facilitate awareness of this Protocol by hosting educational webinars and has published a link to the Protocol on our website. As always, patient safety remains our top priority. We are committed to developing solutions for healthcare professionals that help improve clinical outcomes and enhance quality of life for patients.
The Protocol can be found here.
Customer questions should be directed to the Technical Assistance Center (TAC) at 1-800-848- 9024, option 1.