EVIS EXERA II (TJF-Q180V)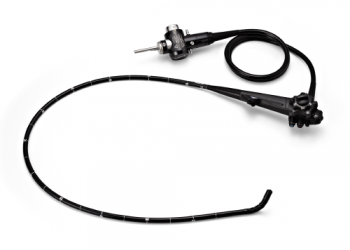 Video Duodenoscope
EVIS EXERA II (TJF-Q180V)
We are aware of the most recent communication made by the FDA on August 29, 2019. As always, patient safety remains our top priority.
We are collaborating with the FDA and are supportive of their recommendation of a gradual transition to duodenoscopes with disposable components.
In the interim, our current duodenoscopes can be used safely. Olympus duodenoscopes continue to be FDA-cleared devices and are an important and effective option.
Olympus recognizes the importance of proper reprocessing. In that regard we have developed and will continue to pursue a wide array of tools to achieve these goals. These include robust educational programs, training videos and onsite support and service, which are detailed and/or linked below.
Additional customer communications can be found here.
---
Resources
Technical Assistance Center (TAC)
1-800-848-9024, option 1
You can contact our Technical Assistance Center (TAC) at 1-800-848-9024, option 1. The TAC department can assist in answering questions on TJF-Q180V cleaning and reprocessing and obtaining additional copies of the TJF-Q180V Reprocessing Manual and supplemental educational materials.
Endoscopy Support Specialists (ESS)
Request a site visit by calling our TAC department at 1-800-848-9024, option 1
Olympus also has dedicated field personnel, called Endoscopy Support Specialists, who visit customer sites to access and observe customer reprocessing methods and to provide reprocessing training and education. If you would like an ESS to visit your facility to review and train on TJF-Q180V cleaning and reprocessing instructions, please request a site visit by calling our TAC department at 1-800-848-9024, option 1.
www.OlympusConnect.com
OlympusConnect.com is our customer portal that houses the full library of training support, including: Reprocessing Videos, Visual Reprocessing Guides, Instruction Manuals, Reprocessing Manuals, In-service Guides, and more. Registration is free and sites may have multiple log-ins.
Training
We provide various training materials for cleaning and reprocessing the TJF-Q180V, including:
Reprocessing Videos
Visual Reprocessing Guide
Instruction Manuals
Reprocessing Manuals
In-service Guides
Customer Letters
Interactive Material Compatibility Guide
Olympus University Courses
Product Support
Channel Width: 4.2 mm
Working Length: 1240 mm
Field of View: 100°
Direction of View: Backward side viewing 5°
Depth of Field: 5-60 mm
Outer Diameter: 13.7
Outer Diameter Insertion Tube: 11.3
Max Angulation Up: 120°
Max Angulation Down: 90°
Max Angulation Right: 110°
Max Angulation Left: 90°
Olympus® Service & Repair
Olympus offers a broad range of services to healthcare professionals and to our customers, including contact hour and peer-based training courses; information, training tools and videos on infection control and reprocessing; authorized repair services and support on Olympus equipment; and financing solutions to help your facility with acquisition of new capital equipment, accessories, and maintenance plans.
Need Help?
Cleaning, Disinfection & Sterilization
The proper cleaning, disinfection, and sterilization of Olympus equipment is equally as important as their proper use.
Olympus Training & Proper Use
Olympus Continuum, is a comprehensive platform of education and training experiences led by healthcare experts from around the world. Learning opportunities include hands-on courses, online learning, lectures and workshops, peer-to-peer training, accredited continuing education, and on-demand learning.
For more information: Olympus Continuum Video
Media Inquiries
Jennifer Bannan
Director, Public Relations
Olympus Corporation of the Americas
jennifer.bannan@olympus.com
412.403.8742

FDA Duodenoscope Surveillance Sampling and Culturing Protocol
In February 2018, the U.S. Food and Drug Administration (FDA), Centers for Disease Control and Prevention (CDC) and American Society for Microbiology (ASM) Working Group on Duodenoscope Culturing published a Duodenoscope Surveillance Sampling and Culturing Protocol as a quality control measure of the adequacy of duodenoscope reprocessing. Olympus was a participant in the Working Group and the development of this Protocol. This Protocol provides recommendations for healthcare facilities that choose to implement duodenoscope microbiological surveillance sampling and culturing. Olympus intends to facilitate awareness of this Protocol by hosting educational webinars and has published a link to the Protocol on our website. As always, patient safety remains our top priority. We are committed to developing solutions for healthcare professionals that help improve clinical outcomes and enhance quality of life for patients.
The Protocol can be found here.
Customer questions should be directed to the Technical Assistance Center (TAC) at 1-800-848- 9024, option 1.