New ESG-150 Electrosurgical Generator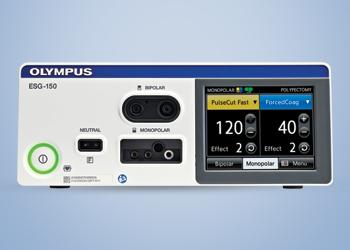 HF Generator
New ESG-150 Electrosurgical Generator
Simply Intelligent
Olympus' ESG-150 is the latest generation of our standard electrosurgical generator designed to achieve successful results in standard GI and Pulmonary endoscopic procedures with constant voltage regulation technology that modulates power to automatically deliver the lowest effective adjusted power output in monopolar and bipolar applications. This intuitive system supports a broad portfolio of Olympus endoscopic devices used in electrosurgery to treat GI and Pulmonary disorders.
The ESG-150 electrosurgical generator is designed to be used for the following electrosurgical applications:
Bipolar electrosurgical cutting and coagulation
Monopolar electrosurgical cutting and coagulation, which requires a neutral electrode
The ESG-150 is equipped with several cutting and coagulation modes which are primarily designed for procedures in the gastrointestinal and respiratory tract. All device settings are completed via the touch screen located on the front panel and activation is enabled with the compatible double pedal footswitch.
---
Key Benefits
Designed with you and your patients in mind, the ESG-150's intuitive design avoids complexity of use and setup, providing user optimization and overall procedural efficiency.
Key benefits of the ESG-150 include the following:
Perform endoscopic procedures with ease using basic or advanced modes & settings
The large, easy to read graphical interface provides increased setting visibility.
An intuitive touch screen provides ease of use to set up physician specific settings along with making adjustments when required for a more effective procedure.
The storage functionality for settings enables time efficiency for the user, increases reproducible results as well as safety by increasing the level of standardization.
Several effect settings per mode allow for customization and precision to target appropriate tissue effect.
Standardized instrument sockets provide flexibility to accommodate most devices on the market that require energy.
Precise and easy to read error messages simplify error handling along with renowned and proven safety features: Fast Spark Monitor, High Power Cut Support, and Contact Quality Monitor.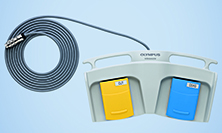 A foot switch with added automatic foot switch assignment to the generator simplifies the set up.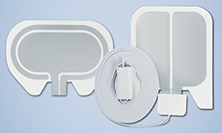 The Olympus Energy portfolio also includes a wide offering of neutral electrodes including a variety of sizes and designs, skin-friendly surface, split-design with hydrogel, minimizing the risk of pad site burns and providing optimum skin contact.
Product Support
ESG-150 Technical Specifications
Power Supply
Power Requirements: Voltage Range AC 100 to 120 V/AC 220 to 240V +/- 10%
Power Requirements: Frequency 50Hz/60Hz
Power Requirements: Fuse T 6.3 AH
Output
High Frequency Functions Monopoar/Bipolar
HF Power 120W
HF Frequency 356kHz +/- 20%
Duty Type 25% Duty Cycle
Maximum Input Power 650 VA
Fuse T 6.3 AH
Classification
Classification acc. To MDD llb
Protection class according to IEC 60601-1 CF, Class I
Sockets
Monopolar Output Socket
3-pin plugs PinØ 4mm (international Valleylab standard)
1-pin plugs PinØ 8mm (Bovie Standard)
1-pin plugs PinØ 4mm
Coaxial Plugs PinØ 9/5mm (Erbe Standard)
Bipolar Output Socket
2-pin plugs PinØ 4mm, 28.6 mm pin spacing (international/Valleylab standard)
Coaxial plug PinØ 4/8 mm (Erbe standard)
Neutral Electrode Socket
2 pin plugs Ø 2.5mm, 10 mm pin spacing
Size & Weight
Width x Height x Depth 295 x 115 x 400mm
Weight 6.61kg
Cleaning:
Cleaning efficacy has been validated with an alkaline disinfectant based on low alcohol (<20%) and quaternary ammonium compounds (Sani-Cloth® Plus manufactured by PDI Professional).
Material compatibility has been verified with the following reprocessing agents:
Alkaline agents, max. pH value of 12.0
Neutral agents
Disinfection:
Low-level disinfection efficacy has been validated with an alkaline disinfectant based on low alcohol (<20%) and quaternary ammonium compounds (Sani-Cloth® Plus manufactured by PDI Professional at 3 minutes contact time).
Material compatibility has been verified with disinfectants based on the following as active ingredients:
Low alcohol
Quaternary ammonium compounds
Amine derivatives
Sodium hypochlorite
Olympus® Service & Repair
Olympus offers a broad range of services to healthcare professionals and to our customers, including contact hour and peer-based training courses; information, training tools and videos on infection control and reprocessing; authorized repair services and support on Olympus equipment; and financing solutions to help your facility with acquisition of new capital equipment, accessories, and maintenance plans.
Need Help?
Cleaning, Disinfection & Sterilization
The proper cleaning, disinfection, and sterilization of Olympus equipment is equally as important as their proper use.
Olympus Training & Proper Use
Olympus Continuum, is a comprehensive platform of education and training experiences led by healthcare experts from around the world. Learning opportunities include hands-on courses, online learning, lectures and workshops, peer-to-peer training, accredited continuing education, and on-demand learning.
For more information: Olympus Continuum Video
---