ENDOCAPSULE Recorder Set (MAJ-2029)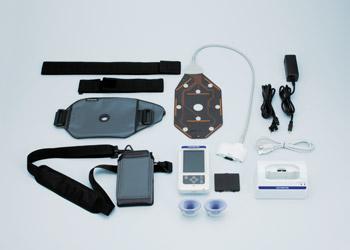 Capsule Endoscopy
ENDOCAPSULE Recorder Set (MAJ-2029)
The size of a vitamin, the capsule endoscope consists of a light source, camera, transmitter, and batteries.
After the capsule is activated and swallowed with a glass of water by the patient, it begins transmitting images of the digestive system to a receiver worn by the patient.
After the exam, the patient returns the receiver to the physician or a nurse who downloads the images to a computer and reviews the images for abnormalities or sources of bleeding.
The Smart Recorder provides physicians with immediate access to examination imagery and up-to-date information. The Olympus MAJ-2029 ENDOCAPSULE Recorder Set delivers enhanced usability, optimal clinical performance, and the capacity for real-time viewing for capsule endoscopy procedures.
---
Key Benefits
Smart Recorder: Combines a receiver and viewer in a compact and easy-to-handle unit, allowing you to playback and capture images any time during the procedure.
Patient Guidance Function: Personalized instructions for each patient can be displayed as text messages preceded by beep and vibration alerts.
Belt-Style Antenna Unit: Enhanced patient comfort and ease-of-use with the lightweight, slim antenna unit which can also be worn over light clothing.
---
Product Support
ENDOCAPSULE Recorder: Olympus RE-10 (1 piece)
Battery Pack: MAJ-2030 (1 piece)
Antenna Unit: MAJ-2031 (1 piece)
Cradle: MAJ-2032 (1 piece)
Recorder Holder: MAJ-2033 (1 piece)
Antenna Unit Holder: MAJ-2034 (1 piece)
Capsule Activator: MAJ-1478 (2 pieces)
Olympus® Service & Repair
Olympus offers a broad range of services to healthcare professionals and to our customers, including contact hour and peer-based training courses; information, training tools and videos on infection control and reprocessing; authorized repair services and support on Olympus equipment; and financing solutions to help your facility with acquisition of new capital equipment, accessories, and maintenance plans.
Need Help?
Olympus Training & Proper Use
Olympus Continuum, is a comprehensive platform of education and training experiences led by healthcare experts from around the world. Learning opportunities include hands-on courses, online learning, lectures and workshops, peer-to-peer training, accredited continuing education, and on-demand learning.
For more information: Olympus Continuum Video