Double Layer Biliary Stent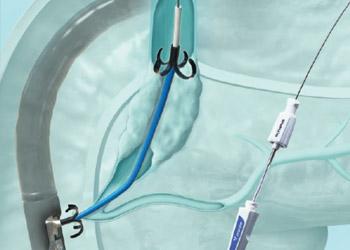 Stents
Double Layer Biliary Stent
Single-Use Olympus Double Layer Biliary Stents feature a unique construction, with a different material in each layer. The inner layer has a water repellent property that minimizes bile adhesion. The more rigid material of the outer surface provides the stiffness necessary to facilitate smooth insertion. The double layer design eliminates flap and side holes to prevent bile accumulation in the stent lumen. Four flaps at both the distal and duodenal ends ensure secure placement in the bile duct and help to confirm position during stent placement. The stents are available in both proximal bend and center bend designs in a wide variety of lengths.
---
Key Benefits
Unique double-layer construction: The stent's unique design features an inner surface five times smoother than conventional plastic stents.
Optimal stiffness: The stent's optimal stiffness and elasticity to ensure easy passage through a stricture
Secure placement: Four flaps at both the distal and proximal ends ensure secure placement.
Product Support
Minimal Channel Size: 4.2 mm
Length: 4, 5, 6, 7, 8, 9, 10, 11, 12, 13, 14, 15 cm
Size: 10 Fr.
Package: 1 per box, sterile
Use: Single use
Olympus Training & Proper Use
Olympus offers a variety of educational opportunities for medical and surgical healthcare professionals. 
Peer-To-Peer Training
Our Professional Education Program provides multiple types of peer-to-peer training in order to meet the specific educational needs of physicians and nurses focused on the safe and effective use of Olympus products.
Olympus University
Olympus Professional Education also offers training programs through Olympus University (OU). Geared toward nurses, reprocessing technicians and biomeds, many of the OU courses are available for nursing contact hour continuing education credit.
Visit Olympus University