HD Autoclavable Camera Head (CH-S190-XZ-E/Q)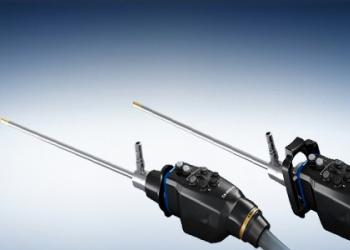 Camera Head
3CCD
HD Autoclavable Camera Head (CH-S190-XZ-E/Q)
The high-resolution, next-generation, 3CCD Olympus HD Autoclavable Camera Head provides high-definition image quality as never seen before. The new design provides unsurpassed detail and color reproduction while minimizing operator fatigue.
---
Key Benefits
Full HD 3CCD: HD 3CCD delivers high-definition image quality with exceptionally fine detail.
Power zoom and focus: Intuitive, motor-driven, remote-controlled 0.9 -1.8 zoom and remote-controlled focusing are accessible on the camera head for one-hand usage. 
Narrow Band Imaging (NBI): NBI is now 20% brighter compared to previous models. This Olympus proprietary optical imaging technology enhances visualization of vessels and other tissues on the mucosal surface.
Product Support
Size (Camera Head Dimension W x H x D):
XZ-E Type: 50 x 63 x 142 mm
XZ-Q Type: 45 x 58 x 161 mm
Weight: 350 g
Observation:
Pickup System: 0.85 cm/0.33 inches solid-state image pickup
Magnification Ratio: Focal distance f = 15.8 – 31.3 mm
C/D/S: Cleaning/disinfection disinfectant solution
Classification (Electromagnetic Equipment):
Degree of Protection Against Electric Shock: Type BF
Degree of Protection Against Explosion: Product should be kept away from flammable gases
Olympus® Service & Repair
Olympus offers a broad range of services to healthcare professionals and to our customers, including contact hour and peer-based training courses; information, training tools and videos on infection control and reprocessing; authorized repair services and support on Olympus equipment; and financing solutions to help your facility with acquisition of new capital equipment, accessories, and maintenance plans.
Need Help?
Cleaning, Disinfection & Sterilization
The proper cleaning, disinfection, and sterilization of Olympus equipment is equally as important as their proper use.
Olympus Training & Proper Use
Olympus Continuum, is a comprehensive platform of education and training experiences led by healthcare experts from around the world. Learning opportunities include hands-on courses, online learning, lectures and workshops, peer-to-peer training, accredited continuing education, and on-demand learning.
For more information: Olympus Continuum Video