Cytology Brushes for Pulmonary with Covered Sheath - Single Use (BC-202D-5010)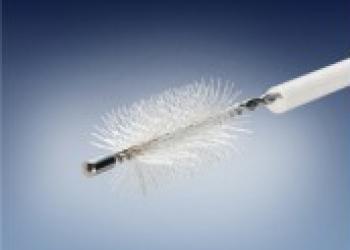 Brushes
Cytology Brush
Cytology Brushes for Pulmonary with Covered Sheath - Single Use (BC-202D-5010)
Single-use Olympus BC-202D-5010 Cytology Brushes for Pulmonary with Covered Sheath provide the ideal brush hardness for improved specimen collection with thinner bristles. A thicker control wire with increased warp resistance provides improved insertion capability and easier brushing. This brush features a brush length of 10.0 mm and an outer brush diameter of 5.0 mm.
Product Support
MODEL BC-202D-5010
Style: Covered sheath
Working Length: 115 cm
Brush Length/Outer Diameter: 10.0/5.0 mm 
Bristle Diameter: 0.064 mm
Minimum Channel Size: 2.0 mm
Package: 10 per box, sterile
Use: Single use
For detailed specifications on the complete line of Olympus Cytology Brushes, please contact customer service for assistance.
Olympus Training & Proper Use
Olympus offers a variety of educational opportunities for medical and surgical healthcare professionals. 
Peer-To-Peer Training
Our Professional Education Program provides multiple types of peer-to-peer training in order to meet the specific educational needs of physicians and nurses focused on the safe and effective use of Olympus products.
Olympus University
Olympus Professional Education also offers training programs through Olympus University (OU). Geared toward nurses, reprocessing technicians and biomeds, many of the OU courses are available for nursing contact hour continuing education credit.
Visit Olympus University