PRECISION System
Highly Accurate and Customized
Varicose Vein Treatments
Smart, Gentle, Efficient
The generator and ProCurve V applicator of the Precision System allow highly accurate and customized varicose vein treatments. Using bipolar radiofrequency technology, the "Pulse RFITT" mode (radiofrequency induced thermotherapy), occludes veins gently and efficiently.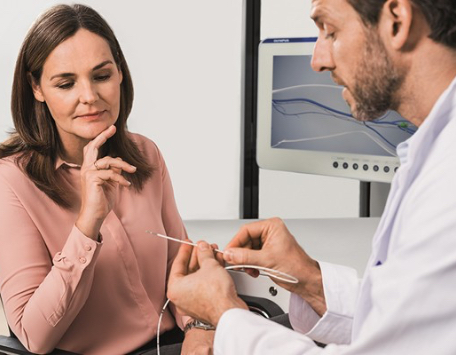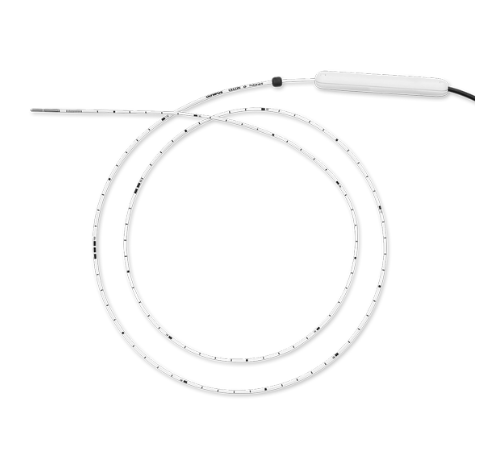 ProCurve V Applicator
The radiofrequency current does not heat the electrode tip itself, but only the adjacent tissue. Once the generator is deactivated by releasing the foot switch, the treatment stops immediately and there is no risk of thermal injury. Additionally, the Auto-Stop function prevents overtreatment of the vein and damage to the introducer sheath.

An ellipsoid coagulation volume is generated around the tip of the bipolar electrode. This ensures that only little heat is delivered beyond the spherical electrode tip. The applicator may be placed closely distal to the saphenous junctions.
Precision Generator
The Precision Generator is a radiofrequency-based platform comprising a variety of functions in one unit. In addition to the "Pulse RFITT" mode for the treatment of varicose veins, the generator may also be employed in standard inpatient and outpatient surgical procedure.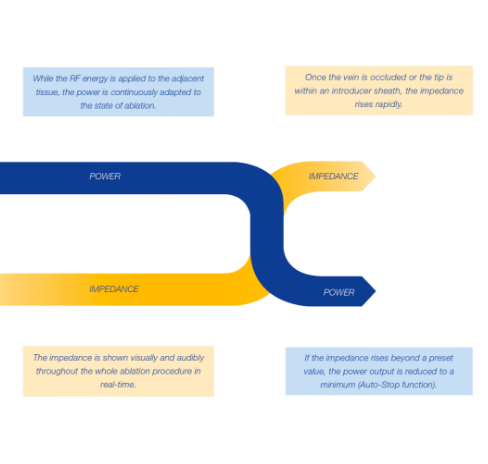 Precise Ablation
The Precision System includes the following self-regulation features: During the entire ablation procedure, the system delivers only the power actually needed to occlude that particular vein being treated. In addition, the visual and audible feedback informs about the ablation progress. This allows the surgeon to match the rate of applicator withdrawal optimally to the specific characteristics of the target vein, thus achieving customized and precise ablation of the varicose vein.

The most notable feature of the system is its continuous intraoperative impedance measurement determining the tissue condition. As tissue impedance rises with progressing ablation, the Precision Generator automatically adjusts its power output. Once the impedance has reached a preset value, the power output is reduced to a minimum. This feature is also known as Auto-Stop.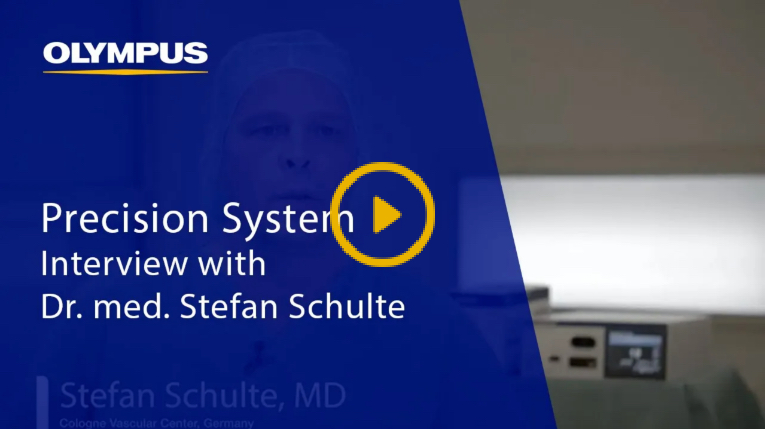 "My first impression of the PRECISION System is very positive. It is technically easy to use. You can start with the treatment right away. The thing that caught my eye was that the vein wall is treated and coagulated very gentle which could be seen on the ultrasound imaging. This has been confirmed by my patients as well. No one has complained about postoperative pains. […] I would describe my experience with the PRECISION System in three words: fast, safe and gentle. Short treatment time and an effective vein occlusion these are the important quality features for a minimally invasive treatment of varicose veins and for high patient satisfaction."
—Dr. med. Stefan Schulte - Cologne Germany
Experience the minimally invasive
PRECISION System
Are you interested in a safe, gentle and efficient solution for treating varicose veins? Request a live demonstration of the PRECISION System and an Olympus consultant or a distribution partner will contact you.
---