EasySuite 4K
---
Experience ultra-high definition (UHD) video in its purest form. EasySuite 4K is our next-generation procedure room integration solution featuring full-room routing of native, uncompressed 4K video via a 10G Ethernet-based switching architecture, providing unparalleled clinical precision and future-proof flexibility.
Defining True 4K Procedure
Space Integration
Moving up to 4K big screen surgery? Make sure that you have an integration system that isn't cutting any corners. Other systems attempt to make the leap to 4K – using a 2K-based architecture, hardcoding their 4K source to a dedicated 4K display, assembling a collection of 4K AV components, or by relying on color conversions or source compression. All of which can compromise performance or image quality.
True 4K OR integration requires a system designed from the ground up specifically for clinical workflows to deliver full-room, native 4K video routing with virtually no latency. When comparing systems, consider the following key questions.
Does it provide end-to-end, native 4K full-room routing?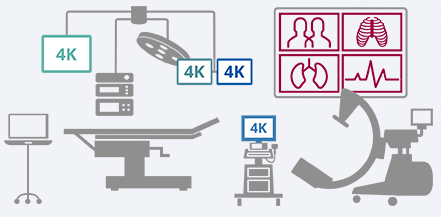 EasySuite 4K is built on a 10G Ethernet-based switching architecture that allows native 4K video transmission at a medical-grade 60 frames per second – without multiple video format conversions, color space or video network compressions, or perceptible latency. Clinicians can share UHD video on different displays around the OR to provide the right visual insight at the right time. Seamless support for 4K and legacy HD and SD video accommodates mixed-source environments and allows easy migration from 2K to 4K.
Can it scale to meet future requirements?
EasySuite 4K is modular, scalable, and standards-based; add new devices, ports, and switching capacity as your needs grow, while protecting your investment. It's ready for next-generation video when it becomes available. A highly flexible footprint and support for video or imaging sources from Olympus and other leading vendors keep your options open now and in the future.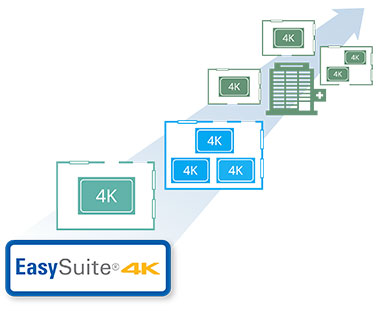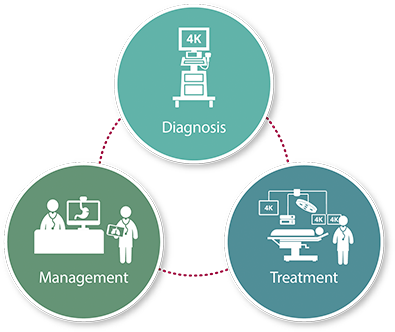 Does it meet your needs across the continuum of care?
EasySuite 4K is a true enterprise-wide solution, providing a robust, scalable infrastructure for serving a single department or an entire hospital or health system. It accommodates the unique audio, video, and configuration requirements of each room and uses patient data from EHR and PACS systems to enhance the visual clinical insights. Enterprise-grade security and virus protection safeguard patient privacy and ensure compliance. Integration with our MedPresence medical virtual presence solution enables collaboration with remote care team members.
Is it built specifically for clinical environments?
OR Workflows
EasySuite 4K is designed specifically for medical procedures and optimized for clinical workflows, leveraging Olympus Systems Integration's 15+ years of procedure space integration experience. Intuitive room control and intelligent features like universal connection ports and auto device recognition facilitate reduction of errors during setup and save time when minutes matter.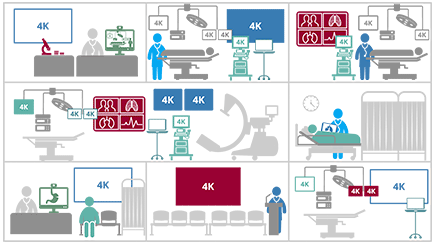 OR Safety and Compliance
In 2017, the National Fire Protection Association (NFPA 70) changed the National Electrical Code (NEC) in regards to Class 1, 2, 3 and communications wiring. This, combined with the growing demand for 4K displays in procedure rooms has caused many medical facilities to be unknowingly uncompliant with the new code when they installed their 4K Surgical Field Displays (SFD) into their integrated operating rooms.
Olympus is committed to complying with the National Electrical Code in all jurisdictions and maintaining the highest standards in all equipment deployments. As the manufacturer and installer of EasySuite 4K integrated operating rooms, Olympus engineering team completed extensive research into this code requirement and developed the patent-pending EasySuite 4K Power Compliance Module (PCM). The PCM ensures power to a 4K display runs in a safe and compliant manner using the procedure room's existing booms and infrastructure. More information on the PCM solution can be found in the EasySuite 4K Power Compliance Module Brochure.
---
Request an EasySuite 4K Demo
Experience the EasySuite 4K difference
True 4K OR integration requires a system designed from the ground up specifically for clinical workflows to deliver full-room, native 4K video routing with virtually no latency.
Schedule a demonstration today and we will show you how EasySuite 4K:
Provides end-to-end, native 4K full-room routing,
Scales to meet your future requirements,
Meets your needs across the continuum of care, and
Is built specifically for clinical environments