RevoWave Endoscopic Guidewire and CleverLock Guidewire Locking Device Offer Physicians Improved Control for ERCP Procedures
Olympus Expands ERCP Access Portfolio for Biliary Endoscopy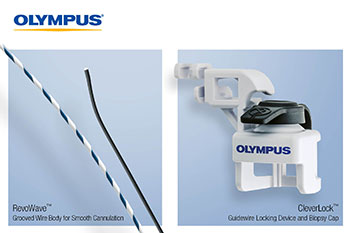 Olympus announces the launch of two endotherapy devices for ERCP at DDW 2019. Via an exclusive agreement, Olympus will be the U.S. distributor of the RevoWave Endoscopic Guidewire, which provides smooth and atraumatic biliary cannulation in sensitive anatomy. The Olympus-designed and manufactured CleverLock Guidewire Locking Device securely locks multiple guidewires in place with a simple, stable design.
CENTER VALLEY, Pa., (May 15, 2019) – Olympus, a global technology leader in designing and delivering innovative solutions for medical and surgical procedures, announced today the U.S. launch of two new Olympus products: the RevoWave Endoscopic Guidewire; and the CleverLock Guidewire Locking Device. Olympus has secured an exclusive agreement to distribute the RevoWave Endoscopic Guidewire, currently manufactured by PIOLAX MEDICAL DEVICES, INC. in Japan. Designed for biliary endoscopy and luminal device exchanges, including stent placement and balloon dilation, RevoWave provides smooth and atraumatic biliary cannulation in sensitive anatomy. Additionally, the Olympus-designed and manufactured CleverLock Guidewire Locking Device securely locks multiple guidewires in place with a simple, stable design.
The Olympus Endoscopic Retrograde CholangioPancreatography (ERCP) access portfolio includes guidewires, sphincterotomes, needle knife, cannulae, and the new locking device. ERCP is a procedure that combines endoscopy and fluoroscopy (internal imaging to obtain real-time, moving X-ray images of internal structures) for diagnosis and treatment in anatomical areas requiring high levels of precision. ERCP enables physicians to diagnose and treat problems in the gallbladder, bile ducts, pancreas, and liver, including gallstones, strictures, and leaks resulting from trauma or surgery, and cancers.
RevoWave – An "Enhanced Workhorse" Endoscopic Guidewire
RevoWave is intended to be used for selective cannulation of the biliary ducts, including but not limited to, the common bile, cystic, right and left hepatic, and pancreatic ducts during endoscopic biliary procedures and for catheter introduction and exchanges during gastrointestinal procedures. RevoWave features a grooved wire body that minimizes contact between the guidewire and device catheter, thus reducing drag or resistance. This gives RevoWave the ability to exchange smoothly with devices and makes it responsive to physician torque for ductal navigation. RevoWave's highly flexibile, atraumatic tip is designed to deflect when it makes contact with tissue, which may facilitate early knuckling and allow atraumatic passage within the biliary or pancreatic ducts.
RevoWave comes in a variety of sizes to suit physician preference and procedural applicability: 0.025" and 0.035" diameter; standard, hard, and ultra-hard shaft stiffness; and 260, 450, and 550 cm working lengths. A typical application for the 0.035" standard stiffness RevoWave guidewire would be for ERCP access, while the 0.035" ultra hard RevoWave guidewire is an attractive design for luminal stenting.
CleverLock: Intuitive and Ergonomic Guidewire Locking Device
With CleverLock, physicians can lock up to three guidewires (0.018" – 0.035") separately, holding them securely in place during endoscopic procedures, such as ERCP, using an ergonomic locking motion signaled by audible and tactile feedback. CleverLock's integrated biopsy cap is designed to prevent reflux of body fluids, such as bile. Designed as an extension to the Olympus TJF-Q180V duodenoscope, CleverLock assembles to the endoscope in a simple and secure manner.
"We are excited to offer a complete ERCP procedural solution for handling the complex challenges encountered during advanced biliary endoscopies," said Kurt Heine, Group Vice President of the Endoscopy Division at Olympus America Inc. "Our expanded line of guidewires, along with a custom-designed locking device, provide physicians with the specific tools they need for therapeutic treatment in the biliary and pancreatic ducts to help ensure the best procedural outcomes. Designed with performance and patient safety in mind, these tools can help facilities improve quality of care, decrease costs and enhance patient satisfaction."
Olympus RevoWave Guidewires and the CleverLock Guidewire Locking Device will be showcased May 18-21 in Olympus Booth #1443 at Digestive Disease Week in San Diego, CA.
For more information about RevoWave Guidewires and CleverLock Guidewire Locking Device, please contact Olympus customer service at 1-800-848-9024.
# # #
About Olympus Medical Systems Group
Olympus is a global technology leader, crafting innovative optical and digital solutions in medical technologies; life sciences; industrial solutions; and cameras and audio products. Throughout our nearly 100-year history, Olympus has focused on being true to society and making people's lives healthier, safer and more fulfilling.

Our Medical Business works with health care professionals to combine our innovative capabilities in medical technology, therapeutic intervention, and precision manufacturing with their skills to deliver diagnostic, therapeutic and minimally invasive procedures to improve clinical outcomes, reduce overall costs and enhance quality of life for patients. For more information, visit medical.olympusamerica.com.