Olympus Webinar Highlights Differences in Single-Use and Reusable Bronchoscope Performance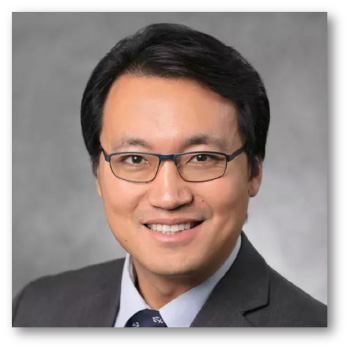 George Cheng, MD, PhD, is a board-certified pulmonologist who specializes in interventional pulmonology. He is the Medical Director for Interventional Pulmonary, Bronchoscopy and Pleural Services and Associate Professor of Medicine at UC San Diego Health. Prior to joining UC San Diego Health, Dr. Cheng was a faculty member of Medicine and Engineering at Duke University. He is a Fellow of the American College of Chest Physicians and a Diplomate of the American Association of Bronchology and Interventional Pulmonology.
CENTER VALLEY, Pa., (March 21, 2023) – Olympus today announced it is hosting a webinar led by interventional pulmonologist George Cheng, MD, PhD, from UC San Diego Health, who will review the full results from his study comparing the performance of reusable bronchoscopes to that of single-use bronchoscopes. The research results from this study, as well as an earlier study for which Dr. Cheng was a co-author, suggest that a complementary mix of reusable and single-use bronchoscopy may support physicians in optimizing patient care.1,2
Hybrid Bronchoscopy Solution: Single-Use and Reusable Bronchoscopes - The Right Scope, for the Right Patient, in the Right Situation
Thursday, Mar 23, 2023
7:00 PM Eastern Time (US & Canada)
With the rise in use of single-use bronchoscopes, physicians need data to help understand the differences in how disposable scopes perform compared to traditional reusable bronchoscopes. With this data, physicians can make the most informed choice for diagnoses and treatment based on the patient, procedure, and site of care.
The most recent survey-based single-center study led by Dr. Cheng gathered information on the perception of bronchoscope performance from nine pulmonologists across categories that included maneuverability, suction capability, and imaging processing. Survey results showed the Olympus reusable bronchoscope scored highest at 90.8 percent, followed by the H-SteriScope at 83 percent.1 These findings are consistent with results from similar research published in Respiratory Care in fall 2020.2 Both studies were conducted on ex-vivo subjects, not in a clinical setting or during patient care. Additional studies are required to evaluate the practicality, safety, and cost efficiency of the H-SteriScope bronchoscope in clinical practice.
Operator perception study results support the use of a hybrid bronchoscopy portfolio including single-use and re-usable bronchoscopes, which is designed to increase the likelihood that pulmonologists have the right bronchoscope on-hand when and where needed, for both basic and advanced diagnostic and therapeutic pulmonary procedures.
# # #
About Olympus
Olympus uses innovative capabilities in medical technology, therapeutic intervention, and precision manufacturing to help healthcare professionals deliver diagnostic, therapeutic, and minimally invasive procedures to improve clinical outcomes, reduce overall costs, and enhance the quality of life for patients. Olympus' portfolio includes endoscopes, laparoscopes, and video imaging systems, as well as surgical energy devices, system integration solutions, medical services, and a wide range of EndoTherapy instruments. For more information, visit medical.olympusamerica.com.
1 Darrell N, Grant S, Abdurrahman H, Matthew N, Russell M, et al. Operator Perception of the Performance of Multiple Single-Use Bronchoscopes Compared to Standard Re-Usable Bronchoscope. 2022;7(2) doi: 10.34297/AJBSR.2022.17.002333.
2 Liu L, Wahidi M, Mahmood K, Giovacchini C, Shofer S, Cheng G. Operator Perception of a Single-Use Flexible Bronchoscope: Comparison With Current Standard Bronchoscopes. 2020 Nov;65(11):1655-1662. doi: 10.4187/respcare.07574.