Olympus Supports National Colorectal Cancer Awareness Month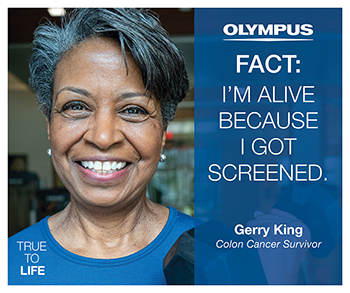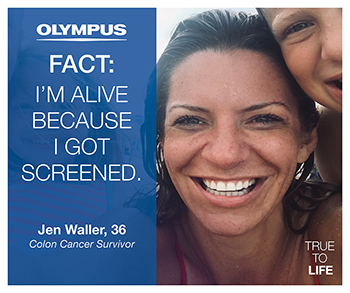 CENTER VALLEY, Pa., (March 17, 2020) – Olympus, a global technology leader in endoscopy, announced today its support of major national colorectal cancer organizations and funding for the provision of colorectal cancer screening kits for those who lack access to medical care as part of National Colorectal Cancer Awareness Month, which is observed to educate the public on the importance of colorectal cancer prevention. These initiatives include:
Funding 400 FIT screening kits for Remote Area Medical (RAM) mobile health clinics
Sponsoring free or low-cost colonoscopies for those in need through the Colorectal Cancer Alliance
Sponsoring the Colon Cancer Coalition's "Get Your Rear in Gear" 5K run/walk and Tour de Tush cyclist events in six cities
Funding a campaign to promote awareness and bridge healthcare disparity gaps within the LGBTQ community through the Bradbury Sullivan LGBT Community Center
Raising more than $3,500 via employee contributions for the Colon Cancer Coalition
Continuing patient education outreach via colonoscopytoday.com
Gathering 100 colorectal cancer survivor video stories to put faces to the milestone number that early detection and medical advancement have made possible: more than 1 million people have survived colon cancer
The U.S. Preventive Services Task Force (USPSTF) recommends screening for colorectal cancer with one of several available tests, including colonoscopy, beginning at age 50 and continuing until age 75. The American Cancer Society updated its screening guidelines in 2018, recommending that people at average risk begin screening at age 45.i
Colonoscopy is considered the "gold standard for detection of colon cancer,"ii giving physicians the opportunity to detect and remove precancerous polyps before they become malignant. Additionally, early detection and treatment is a critical component of effective patient care.
According to the CDC, more than thirty (30%) percent of all adults aged 50-75 in the U.S. have not been screened for colon cancer.iii The American Cancer Society estimates that more than 50,000 people will die from colorectal cancer in the U.S. in 2020, making it the second leading cancer killer among men and women combined.iv The statistics also show that at least ninety (90%) percent of those deaths could be prevented with early detection.v
Current advancements in colon cancer screening provide physicians with new tools to combat this largely treatable disease. One such advancement is the ENDOCUFF Vision® therapeutic device, which is attached to the distal tip of the colonoscope and aids physicians by providing increased visibility of the mucosa by flattening folds inside the colon. Research has shown that use of the ENDOCUFF Vision improves the effectiveness and efficiency of colonoscopies by increasing adenoma detection rates.vi
"We know that colorectal cancer is highly preventable through use of screening technologies such as colonoscopy, which allows for the minimally invasive detection and treatment of polyps," said Kurt Heine, Group Vice President of the Endoscopy Division at Olympus America Inc. "Since the invention of the very first gastrocamera almost 70 years ago, Olympus has been developing technologies that help physicians see and treat internal anatomy to save lives, and we proudly continue our commitment to furthering the possibilities in minimally invasive procedures."
Olympus joins the health care community in increasing public awareness of this deadly disease in order to improve patient care with the goal of saving lives.
# # #
About Olympus Corporation of the Americas
Olympus is a global technology leader, crafting innovative optical and digital solutions in medical technologies; life sciences; industrial solutions; and cameras and audio products. Throughout our 100-year history, Olympus has focused on being true to society and making people's lives healthier, safer and more fulfilling every day.
Olympus Corporation of the Americas (OCA)—a wholly owned subsidiary of Olympus Corporation in Tokyo, Japan—is headquartered in Center Valley, Pennsylvania and employs more than 5,300 employees throughout locations in North and South America. For more information, visit olympusamerica.com and truetolife.com.
Olympus…True to You. True to Society. True to LIFE
---
i Thalheimer, W. How Much Do People Forget? Work-Learning.com Retrieved. http://www.work-learning.com/catalog.html. Published April 2010. Accessed February 13, 2020.
i American Cancer Society. American Cancer Society Updates Colorectal Cancer Screening Guidelines. https://www.cancer.org/latest-news/american-cancer-society-updates-colorectal-cancer-screening-guideline.html. Accessed February 20, 2020.
ii Colon Cancer Coalition. Colon Cancer Screening Options. https://coloncancercoalition.org/get-educated/get-screened/colon-cancer-screening-options/. Accessed February 19, 2020.
iii Center for Diseases Control. Cancer prevention works: Colorectal cancer screening in the U.S. https://www.cdc.gov/cancer/colorectal/statistics/use-screening-tests-BRFSS.htm. Accessed February 21, 2020.
iv American Cancer Society. Key statistics for colorectal cancer. https://www.cancer.org/cancer/colon-rectal-cancer/about/key-statistics.html. Accessed February 18, 2020.
v Cancer.net. Colorectal Cancer: Statistics. https://www.cancer.net/cancer-types/colorectal-cancer/statistics. Published October 2019. Accessed February 27, 2020.
vi Ngu WS, Bevan R, Tsiamoulos ZP, et al. Improved adenoma detection with Endocuff Vision: the ADENOMA randomised controlled trial. Gut 2019;68:280-288.