Olympus PK AIM Named GOOD DESIGN® Award Winner
Olympus recognized by oldest and most prestigious program for design excellence worldwide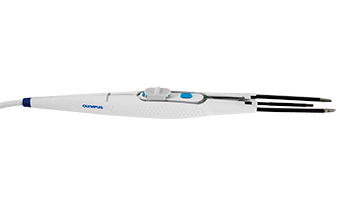 CENTER VALLEY, Pa., (January 12, 2018) – Olympus, a global technology leader in designing and delivering innovative solutions for medical and surgical procedures, among other core businesses, announced today that it has been recognized as a GOOD DESIGN® Award Winner by The Chicago Athenaeum: Museum of Architecture and Design, distinguishing PK AIM in the medical category.
PK AIM, the first and only 2-in-1 advanced bipolar and monopolar hybrid instrument for open procedures, provides surgeons with the ability to mobilize target anatomy, transect tissue, and seal and cut vessels (up to and including 3 mm), tissue bundles, and lymphatics with precision and control. The device combines the performance of both advanced bipolar forceps and traditional monopolar functionality and provides improved operating efficiency over alternative devices that do not integrate the 5-in-1 functionality of grasping, dissecting, coagulating, cutting, and sealing. Fewer instrument exchanges can help decrease procedure time and allow the surgeon to focus on the surgical site. Used in a range of procedures, PK AIM's integrated advanced bipolar energy can also reduce the need for clips and sutures, further helping to reduce procedure time.
The PK AIM was designed to positively impact the following metrics for clinical satisfaction:
Procedure Time
Surgical Field Focus
Suture/Clips Usage
Operating Efficiency
Instrument Exchanges
Hemostatic Control
Demand on OR Staff
PK AIM was conceptualized by the Olympus Surgical Technologies of America (OSTA) Surgical Discovery Team via extensive observation and interviews with surgeons and staff across a wide range of procedures. The team discovered a specific unmet need that consistently plagued surgeons and staff: the exchange of multiple devices throughout the course of a procedure for various purposes was constant and detracted from the surgical flow of the case while also adding time.
The emphasis of the GOOD DESIGN program is on quality design of the highest form, function, and aesthetics -- a standard beyond ordinary consumer products and graphics. The Chicago Athenaeum's GOOD DESIGN program forwards the ideals of a design process that embodies product excellence and endurance and strong public identity.
"Olympus is honored to receive a GOOD DESIGN award," said Randy Clark, Group Vice President of Sales and Marketing at Olympus America Inc. "We are committed to innovation and believe the PK AIM's superior design, developed with both the patient and physician in mind, can enhance clinical efficiencies."
The PK AIM is featured on the GOOD DESIGN website and will be included in the Museum's Permanent Design Collection, which is frequently exhibited in the United States and abroad.
For more information please call 1-800-848-9024 or visit us at http://medical.olympusamerica.com.
# # #
About Olympus Medical Systems Group
Olympus Medical Systems Group, a division of global technology leader Olympus, develops solutions for healthcare professionals that help improve clinical outcomes, reduce overall costs and enhance quality of life for their patients. By enabling less invasive procedures, innovative diagnostic and therapeutic endoscopy, and early stage lung cancer evaluation and treatments, Olympus is transforming the future of healthcare. For more information visit Olympus at www.medical.olympusamerica.com.