Olympus Named 2018 Edison Awards Finalist
ORBEYE to be Recognized at Edison Awards Gala on April 11 in New York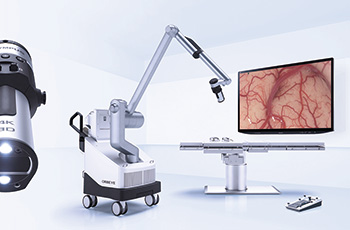 CENTER VALLEY, Pa., (February 22, 2018) – Olympus, a global technology leader in designing and delivering innovative solutions for medical and surgical procedures, among other core businesses, announced today its 4K-3D Video Microscope, ORBEYE , has been named a 2018 Award Finalist by the internationally renowned Edison Awards™. The distinguished awards, inspired by Thomas Edison's persistence and inventiveness, recognize innovation, creativity and ingenuity in the global economy.
"ORBEYE's groundbreaking design and technology represent the future of operative imaging across a wide range of surgical specialties," said Randy Clark, Group Vice President of Sales and Marketing at Olympus America Inc. "This prestigious program recognizes innovation and game changing products and services throughout the world. We are honored to be named an Edison Awards finalist."
The precise 4K-3D digital images from the ORBEYE microscope can enable more accurate surgery by providing high-resolution 3D imaging of the structure of tissue, blood vessels and other features. By displaying the progress of surgical procedures on a large 55-inch monitor, the new model has the potential to both reduce surgeon fatigue by eliminating the need for extensive viewing via microscope eyepieces and to include the entire surgical team in the view of the procedure. Because the use of digital technology has made the microscope unit approximately 95 percent smaller in volume above the surgical field than the previous model, it additionally helps free up surgical space and shortens setup times. The microscope unit was also made 50 percent lighter than the previous model to facilitate its transportation between operating rooms.
The benefits of ergonomics, improved precision and ease of positioning in the OR are the result of the following features:
High-resolution 4K-3D digital images supporting precision surgery -- The two Sony 4K ExmorRTM CMOS image sensors deliver high-sensitivity, low-noise images. The system deploys an image processing circuit designed to work across a wide color range as well as with four times the pixel count of the Full High Definition standard to provide high-resolution digital images during surgery. Because it additionally minimizes the delay associated with the large amounts of data that need to be processed by 4K-3D systems, ORBEYE provides zero image latency for smoother viewing and manipulation of the target location.
Use of 55-inch 4K 3D monitor helps reduce surgeon fatigue and facilitates team surgery -- The new model displays via a monitor and has no eyepiece. This helps reduce surgeon fatigue by allowing a more comfortable working posture without requiring them to spend long periods peering into a microscope lens. Moreover, because the large 55-inch monitor enables the entire surgical team to view the same image, it allows more than one surgeon to operate and improves efficiency by allowing information to be shared with other surgical staff.
Significant reduction in microscope size (95 percent smaller than previous model) helps free up surgical space and shortens setup times -- The use of digital technology has made the microscope unit much smaller and it therefore provides the surgeon with additional space to perform operations. The unit's reduced size also allows faster setup times by eliminating the need to make often awkward adjustments to the balance of the arm, and by allowing use of a smaller and easier-to-fit surgical drape to keep the microscope clean.
The name ORBEYE, a combination of "orb" and "eye", expresses the idea of being able to approach things from an angle or direction that was not possible using existing microscopes. It also references the product's potential for global reach. ORBEYE was developed by Sony Olympus Medical Solutions Inc, (SOMED) a joint venture between Olympus Corporation and Sony Imaging Products & Solutions Inc.
Edison Award nominees are judged by more than 3,000 senior business executives and academics from across the nation whose votes acknowledge the Finalists' success in meeting the award's stringent criteria of quality. Award winners will be announced April 11, 2018 at the Edison Awards Annual Gala in New York, NY. The Edison Awards is a program conducted by Edison Universe, a 501(c)(3) charitable organization dedicated to the fostering of future innovators.
# # #
About Sony Olympus Medical Solutions
As a supplier of a complete range of endoscopes, Olympus has long been engaged in the development, manufacture and sales of endoscopy products for surgical use. Sony has a long history of state-of-the-art digital imaging offerings. In 2013 the joint venture Sony Olympus Medical Solutions was formed with the aim of contributing to advances in the medical field by developing improved endoscope systems that draw on Sony's state-of-the-art digital imaging technologies and know-how, especially for 4K imaging, as well as Olympus' lenses and other optical technologies and its experience in medical equipment manufacture and development.
About Olympus Medical Systems Group
Olympus Medical Systems Group, a division of global technology leader Olympus, develops solutions for healthcare professionals that help improve clinical outcomes, reduce overall costs and enhance quality of life for their patients. By enabling less invasive procedures, innovative diagnostic and therapeutic endoscopy, and early stage lung cancer evaluation and treatments, Olympus is transforming the future of healthcare. For more information, visit Olympus at www.medical.olympusamerica.com.