Olympus Marks Three-Year Anniversary of Global Educational Platform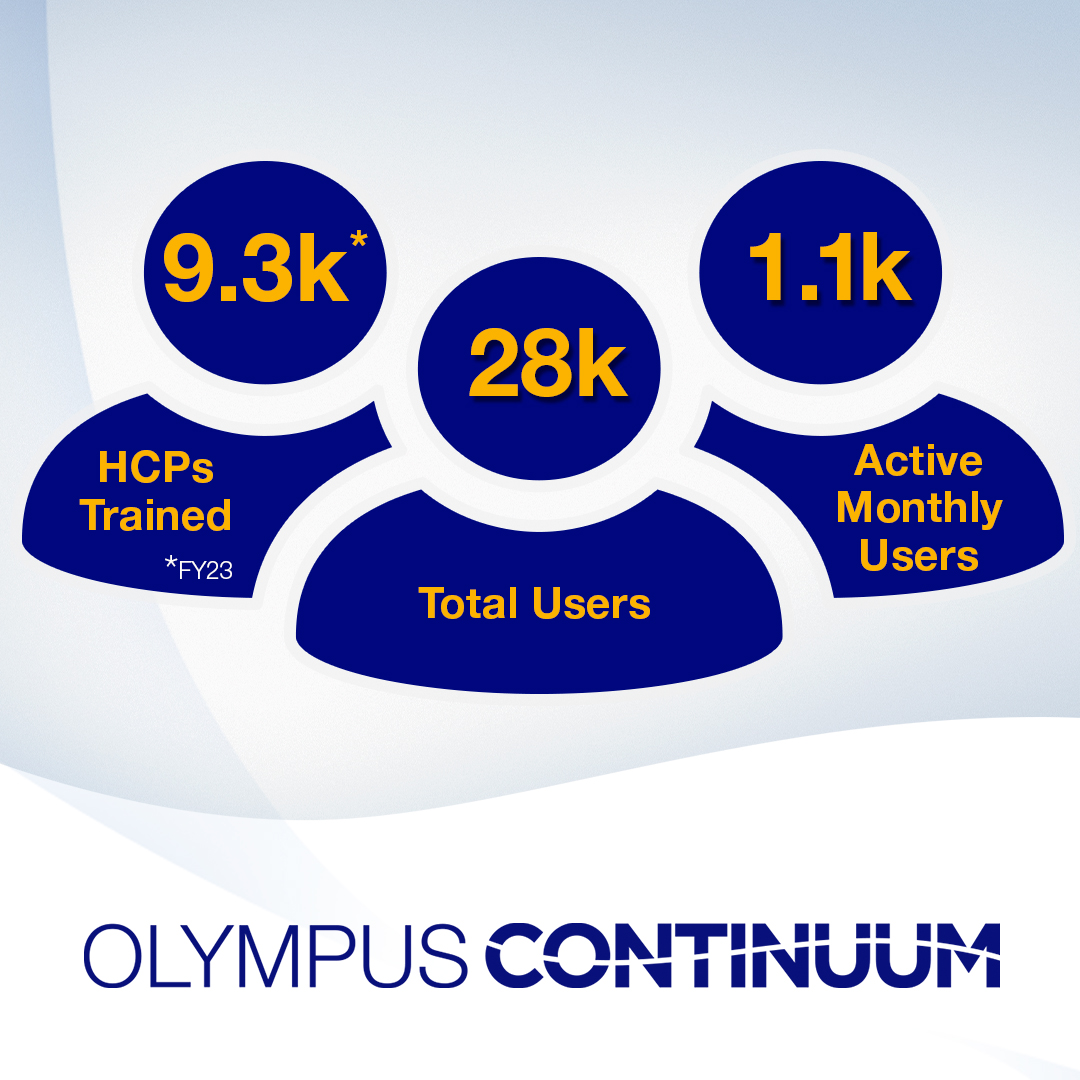 CENTER VALLEY, Pa., (November 6, 2023) – Olympus Corp. announced today the three-year anniversary of Olympus Continuum, a global educational platform designed to provide healthcare professionals (HCPs) ready access to the latest training and learning opportunities. Since its launch, the platform has steadily grown in the average number of users visiting daily.
Launched publicly in 2020, Olympus Continuum offers hands-on courses, lectures and workshops, peer-to-peer training, accredited continuing education and on-demand learning in a host of disciplines, including gastroenterology, gynecology, general surgery, urology, pulmonology, neurosurgery, ENT and reprocessing. In the Americas, Continuum has registered more than 28,000 users since registering the first 1,000 users in the 100 days after its launch.
"Medical technology continues to innovate at a rapid pace, so medical education and training must adapt accordingly to meet the needs of medical professionals," said Thorsten Luedtke, Medical & Scientific Affairs Global Lead for Professional Affairs for Olympus. "Ultimately, the goal of professional education is to help improve clinical outcomes and patient safety. That objective highlights the importance of platforms that offer a comprehensive collection of learning opportunities available to professionals at all levels of experience regardless of where they serve patients."
Highlights of Olympus Continuum include:
A comprehensive platform that covers basic to advanced levels of blended learning, providing more educational opportunities and experiences and increasing accessibility through the utilization of technology. Hands-on courses are provided in 15 dedicated Olympus training labs, as well as hospitals and other labs all over the world.
An on-demand library that offers procedure guides, product information and instructions for use.
A globalized and comprehensive platform of training and educational experiences led by healthcare experts from around the world. In some emerging countries and hard-to-reach areas, it may be difficult for physicians, nurses and technicians to receive training or enroll in educational programs because of limited course offerings and large geographical distances — the Continuum platform can help some users overcome these difficulties.
"As Olympus works to help elevate the standard of patient care, we are also working to provide a comprehensive education platform to reach that objective," said Deena Robinson, Executive Director, Professional Affairs, Olympus Corp. of the Americas. "Olympus Continuum offers healthcare professionals at various stages of their careers a mix of learning opportunities focused on the singular goal of improving patient outcomes."
Continuum offers eLearning Modules or emodules covering a variety of courses to enhance decision making and technical skills. Users in the Americas have completed over 12,000 emodules to date, and Olympus' professional educators collect information from users to develop new courses based on interest.
For more information, visit the Olympus Continuum website.
# # #
About Olympus
At Olympus, we are committed to our purpose of making people's lives healthier, safer and more fulfilling. As a global medical technology company, we partner with healthcare professionals striving to provide best-in-class solutions and services for early detection, diagnosis and minimally invasive treatment, aiming to improve patient outcomes by elevating the standard of care in targeted disease states.

For more than 100 years, Olympus has pursued a goal of contributing to society by producing products designed with the purpose of delivering optimal outcomes for its customers around the world. For more information, visit medical.olympusamerica.com.