Olympus Launches Pancreatic Cancer Awareness Website
New Web Resource Launched by a Leader in Endoscopic Ultrasound During National Pancreatic Cancer Awareness Month Promotes Understanding of Symptoms, Risk Factors and Who Should Get Screened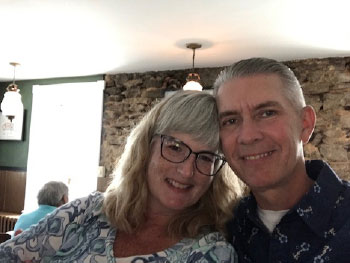 "Be persistent, listen to your body," said pancreatic cancer survivor Jerry McGee whose diagnosis of Stage III Pancreatic Adenocarcinoma in 2011 changed his life, pictured here with his wife Elizabeth. "Focus on the present, deal with your diagnosis one day at a time, and look for the signs around you that give you hope and strength." Read Jerry's full story.
CENTER VALLEY, Pa., (November 3, 2020) – Olympus Corporation of the Americas announced today the launch of a new pancreatic cancer awareness website providing information about symptoms and risk factors and the importance of screening for high-risk individuals, as well as survivor stories and a searchable database of facilities offering pancreatic cancer screening. November is National Pancreatic Cancer Awareness Month, which is observed to raise awareness about all aspects of the disease.
Pancreatic cancer is difficult to diagnose before it has become advanced, making it a deadly cancer. According to the American Cancer Society, the five-year survival rate is only 9 percent, with more than half of the diagnoses being made after the cancer has spread to other parts of the body. The location of the pancreas and symptoms make the disease very difficult to detect in its early stages. Symptoms, which can include jaundice, belly or back pain, unexplained weight loss and poor appetite, and nausea and vomiting, can be vague or often arise after the cancer has metastasized.
While deadly, pancreatic cancer is relatively rare, which is why there is no routine screening for pancreatic cancer recommended for adults without symptoms. The risk of an average person developing pancreatic cancer is low. The exception to the no-screening recommendation is people at high risk of developing the disease. For high-risk people, which include those with a family history of the disease or those with inherited genetic syndromes, there is hope of early detection using a variety of imaging procedures, including direct visualization of the pancreas via endoscopic ultrasound (EUS).
Research has shown that EUS is advantageous when compared to other screening modalities as it is both accurate and efficient for diagnosing and staging pancreatic cancer. , Using a special endoscope with an ultrasound transducer on its tip, the doctor gets a picture of the pancreas that reveals any abnormalities in the tissue, as well as any abnormalities in surrounding organs such as the liver, spleen, gallbladder or lymph nodes.
"Endoscopic ultrasound (EUS) has an advantage over other imaging modalities, such as MRI, in that it allows the physician to take a fine needle biopsy (FNB) of any abnormalities found during the procedure," said Dr. Walter Park, Assistant Professor of Medicine, Gastroenterology and Hepatology, at Stanford University Medical Center. "An EUS procedure with a biopsy, or EUS-FNB, can be completed in one appointment and can expedite tissue analysis when a mass has been detected."
"Because there is hope for people in high-risk categories for detecting pancreatic cancer early, we feel there is room for education," said Kevin Mancini, Group Vice President for Endoscopy at Olympus America, Inc. "We are pleased to join other leading educational resources to improve the survival rate of one of the deadliest cancers."
Olympus joins the health care community in increasing public awareness of this deadly disease to improve patient care with the goal of saving lives.
# # #
About Olympus Corporation of the Americas
Olympus is a global technology leader, crafting innovative optical and digital solutions in medical technologies; life sciences; industrial solutions; and cameras and audio products. Throughout our 100-year history, Olympus has focused on being true to society and making people's lives healthier, safer and more fulfilling every day.
Olympus Corporation of the Americas (OCA)—a wholly owned subsidiary of Olympus Corporation in Tokyo, Japan—is headquartered in Center Valley, Pennsylvania and employs more than 5,300 employees throughout locations in North and South America. For more information, visit olympusamerica.com and truetolife.com.
Olympus…True to You. True to Society. True to LIFE