Olympus Launches ESG-300 Electrosurgery Generator
Simple, Safe and Smart Source of Energy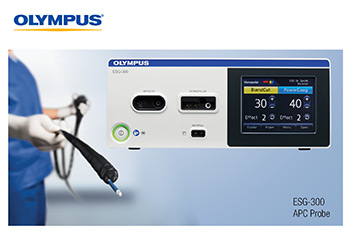 Olympus announced today the launch of its ESG-300 Electrosurgery Generator. The ESG-300 will provide benefits including ease of use, procedural efficiency and safety for GI and pulmonary and enables advanced therapeutic procedures including those that may require argon plasma coagulation.
CENTER VALLEY, Pa., (May 31, 2018) – Olympus, a global technology leader in designing and delivering innovative solutions for medical and surgical procedures, among other core businesses, announced today the launch and 510(k) clearance of the ESG-300 Electrosurgery Generator. Olympus' ESG-300 is the latest generation of electrosurgical devices designed exclusively for GI and pulmonary, and includes all of the modes and settings required by physicians performing advanced therapeutic procedures including those that may require argon plasma coagulation (APC). The addition of this intuitive electrosurgery generator increases the ability to leverage the strength and vast portfolio of GI and pulmonary devices available through Olympus.
The electrosurgical devices market is driven by the growing number of minimally invasive surgeries along with the rising cost of healthcare and the continuous increase in the geriatric population. Electrosurgical generators facilitate therapeutic endoscopy by supplying the high frequency electrical current required to use many endoscopic devices. Electrosurgical generators must combine features that enhance both patient safety and ease of use, the pillars on which the ESG-300 has been designed.
The ESG-300 system's intuitive design avoids complexity of use and setup, providing user optimization and overall procedural efficiency. Key benefits of the ESG-300 include the following:
Flexibility of use as a stand alone generator or in combination with the Argon Plasma Unit to produce a variety of waveforms to accommodate monopolar, bipolar and argon plasma coagulation devices.
The Argon Plasma Unit (APU-300) featuring the Olympus exclusive SmartArgon mode detects distance to tissue and adjusts power automatically. This feature supports consistent and safe hemostasis with reduced carbonization and limits the penetration depth of the plasma beam, making SmartArgon the perfect option for fragile tissue structures.
The large, easy to read graphical interface provides increased setting visibility.
An intuitive touch screen provides ease of use to set up physician specific procedures along with making adjustments when required for a more effective procedure.
Precise and easy to read error messages simplify error handling along with renowned and proven safety features: Fast Spark Monitor, High Power Cut Support, Contact Quality Monitor and Leakage Protection Sensor.
A foot switch with added automatic foot switch assignment to the generator provides simplified set up and a toggle function to allow physicians to transition efficiently through procedural settings.
Wide offering of neutral electrodes includes variety of sizes and designs, skin-friendly surface, split-design with hydrogel, minimizing the risk of pad site burns and providing optimum skin contact.
"Our complete range of solutions for the GI and pulmonary segments strengthens our position as a full service provider, and gives our customers room to focus increasingly on therapeutic procedures enabled by energy-driven technology," said Kurt Heine, Group Vice President, Olympus America Inc. "We are excited to enter into the argon plasma coagulation market and pleased to complete our family of generator offerings. In partnership with our customers, we continue to drive increased quality of care, cost reductions and patient satisfaction."
Attendees of the Digestive Disease Week DDW 2018 conference are encouraged to see the ESG-300 at the Olympus booth #2833. For more information, please call 1-800-848-9024 or visit us at http://medical.olympusamerica.com.
# # #
About Olympus Medical Systems Group
Olympus is a global technology leader, crafting innovative optical and digital solutions in medical technologies; life sciences; industrial solutions; and cameras and audio products. Throughout our nearly 100-year history, Olympus has focused on being true to society and making people's lives healthier, safer and more fulfilling.

Our Medical Business works with health care professionals to combine our innovative capabilities in medical technology, therapeutic intervention, and precision manufacturing with their skills to deliver diagnostic, therapeutic and minimally invasive procedures to improve clinical outcomes, reduce overall costs and enhance quality of life for patients. For more information, visit http://medical.olympusamerica.com.