Olympus Launches the DualKnife J, an ESD Electrosurgical Knife That Shortens Procedure Time
A New Evolution of the Best Selling ESD Knife Provides Lifting and Dissection in One Device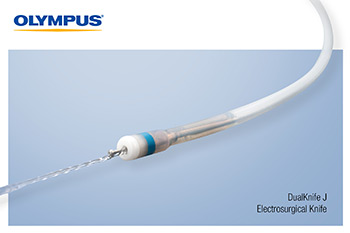 Olympus launches DualKnife J, an electrosurgical knife that shortens procedure time by reducing the need to switch out devices. This new evolution of a best-selling ESD knife provides an injection capability that allows physicians to perform lifting and dissection in one device.
CENTER VALLEY, Pa., (May 30, 2018) – Olympus, a global technology leader in designing and delivering innovative solutions for medical and surgical procedures, among other core businesses, announced today the launch of DualKnife JTM, an endoscopic submucosal dissection (ESD) electrosurgical knife that integrates submucosal injection to support efficient, safe and more reliable ESD performance.
Building upon the trusted performance of the legacy DualKnife, the DualKnife J provides two step knife length adjustments for optimal handling, and a reduced risk of perforation. Knife length can extend to 2mm or retract to .1mm. Building upon DualKnife, the current market leading and best-selling ESD knife in the U.S., DualKnife J enables dissection and now lifting of the mucosa by injecting saline solution into the submucosal layer. This eliminates the need to change devices, potentially leading to shorter procedure times.
The Olympus procedural solution includes:
Distal attachment that allows endoscopists and surgeons to maintain an optimal field of view
Electrosurgical generator that is reliable and easy to use, with versatile design and expanded performance suitable to state-of-the-art endoscopies such as ESD
Endoscopic Flushing Pump (OFP-2) to deliver fluid at the desired flow rate and pressure
Accessory Port Tube with Bottle Cap or Saline Spike
A complete suite of ESD devices, including the DualKnife J Electrosurgical Knife
Hemostasis management including Olympus' full line of hemostasis products to treat bleeding complications, from the Olympus QuickClip ProTM hemostatic clip, to the Coagrasper, a hemostatic forceps tool to the bipolar probe and NeedleMaster injection needles.
"DualKnife J allows us to further innovative ESD procedures as part of an overall value-based care initiative, providing more minimally invasive procedures to patients so they may reap the benefits that come with avoiding more invasive forms of surgery," said Dr. Sergey V. Kantsevoy, MD, PhD, Director of Therapeutic Endoscopy, Mercy Medical Center. "We have come to rely on the DualKnife J as it can decrease procedural time and increase our efficiencies, and can also lead to better patient outcomes."
"Olympus stays true to its commitment to improve already excellent and best-in-class products, in this case by integrating the injection capability that will save physicians time and help get patients more quickly into recovery," said Kurt Heine, Group Vice President of the Endoscopy Division at Olympus America Inc. "We expect DualKnife J to be a driver in bringing more practices into the value-based paradigm of minimally invasive procedures, which help reduce costs while improving patient outcomes and satisfaction."
DualKnife J will be showcased at Digestive Disease Week in Washington, D.C., June 2-5, 2018 at booth 2833. For more information, please call 1-800-848-9024 or visit us at http://medical.olympusamerica.com.
# # #
About Olympus Medical Systems Group
Olympus is a global technology leader, crafting innovative optical and digital solutions in medical technologies; life sciences; industrial solutions; and cameras and audio products. Throughout our nearly 100-year history, Olympus has focused on being true to society and making people's lives healthier, safer and more fulfilling.

Our Medical Business works with health care professionals to combine our innovative capabilities in medical technology, therapeutic intervention, and precision manufacturing with their skills to deliver diagnostic, therapeutic and minimally invasive procedures to improve clinical outcomes, reduce overall costs and enhance quality of life for patients. For more information, visit medical.olympusamerica.com.