Olympus Launches DIEGO® ELITE Multidebrider® Platform for Sinus, Turbinate, Tonsil, Adenoid and Laryngeal Surgeries
New technology delivers optimal tissue dissection with built-in hemostasis
and improves speed of sinus surgeries by 12%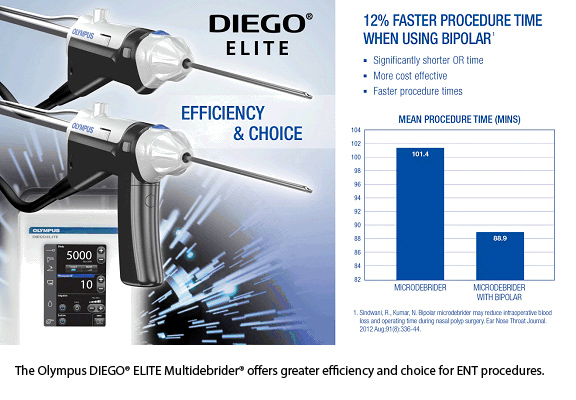 CENTER VALLEY, Pa., September 26, 2013 – Olympus, a precision technology leader in designing and delivering innovative solutions in the medical and surgical field, among other core businesses, announced today that it has launched a new platform for use in minimally invasive sinus surgery – the Olympus DIEGO® ELITE Multidebrider®. The device will be showcased at the American Association of Otolaryngology - Head & Neck Society (AAO-HNSF) Annual Meeting, September 29 to October 2, in Vancouver, BC. 
Approximately 1,333,000 sinus surgeries to eliminate blockages causing sinus pain and impaired breathing are performed in the U.S. each year (Truven Health OPV 2011). These surgeries often require a wide variety of cutting blades and tools for each procedure. The Olympus DIEGO ELITE Multidebrider is the world's only ENT system to offer both monopolar and bipolar energy blades for hemostasis – as well as traditional standard shaver blades – providing specialists with a full array of surgery options using just one device. Applications for the Olympus DIEGO ELITE include sinus surgery, polypectomy, tonsillectomy, adenoidectomy, inferior turbinate reduction, and laryngeal applications.
Procedures powered by the Olympus DIEGO ELITE Multidebrider offer significantly shorter surgery times compared to those performed using standard blades. Devices with bipolar energy have been shown to reduce bleeding and expedite operating times by as much as 12%, as the average procedure time during the study dropped from 101.4 minutes to 88.9 minutes.[1] In addition, compared to its predecessor, the DIEGO ELITE offers improved coagulation performance and further expedites procedures, delivering 27%[2] faster tissue removal than previous models. 
"Never have I had so many options with one device," said Alexander Chiu, MD, Professor and Interim Chair, Department of Surgery and Chief of the Division of Otolaryngology-Head and Neck Surgery at the University of Arizona and member of the DIEGO ELITE evaluation team. "The Olympus DIEGO ELITE Multidebrider is ideal for all types of sinus and endoscopic skull base surgery. Its versatility enables more efficient and safer procedures, reducing the need for instrument exchanges and allowing me to get to the source of bleeding instantly." Dr. Chiu will share his perspective and experience with the Olympus DIEGO ELITE Multidebrider during presentations at the AAO meeting.
The Olympus DIEGO ELITE Multidebrider further expedites surgeries and procedural efficiency with features such as a toggle stop to quickly open or close the blade window, dedicated suction along with a convenient bulb for easy de-clogging during the procedure, choice of ergonomic hand pieces suited to physician preference, and a blade ID feature that ensures every time a new blade is plugged in, the device will default to the recommended setting for that blade.
"With reduced procedure times and the potential to decrease pain and shorten healing periods, innovations like the Olympus DIEGO ELITE Multidebrider allow us to further our commitment to providing premier care, while supporting our customers achieve the clinical efficacy and cost effectiveness required under Accountable Care," said Luke Calcraft, President of the Medical Systems Group at Olympus Corporation of the Americas.
Olympus plays a major role in the sinus surgery market offering a complete range of products, including HD imaging systems, wide angled sinuscopes, precision hand instruments and nasal packing. The Olympus DIEGO ELITE Multidebrider addresses the following key requirements of Healthcare Reform:
Increased Quality of Care: An additional option to control bleeding at the source with fewer instrument exchanges ensures that patients receive the best quality of care.
Decreased Costs: A 12% reduction in procedure time leads to reduced OR time and operating costs.1
"The Olympus DIEGO ELITE Multidebrider, manufactured in the U.S., offers an unrivaled level of surgeon choice, paired with ease of use," said Georg Schloer, President of Olympus Surgical Technologies America, Olympus' American medical product development and manufacturing unit. "The system was designed in collaboration with a team of customers because it was important to capture not only the requirements of surgeons but also of staff members involved in device preparation prior to surgery."
The Olympus DIEGO ELITE Multidebrider will be showcased at the American Association of Otolaryngology - Head & Neck Society (AAO-HNSF) Annual Meeting, September 29 to October 2, in Vancouver, B.C. Surgeons are invited to visit booth #1604 to experience the benefits of the Olympus DIEGO ELITE Multidebrider firsthand.
For more information, or to evaluate the DIEGO ELITE Multidebrider, please contact your Olympus representative or call 800-773-4301.  To learn more about the product visit: www.medical.olympusamerica.com/diegoelite
About Olympus Medical Systems Group
Olympus Medical Systems Group, a division of global technology leader Olympus, develops solutions for healthcare professionals that help improve clinical outcomes, reduce overall costs and enhance quality of life for their patients. By enabling less invasive procedures, innovative diagnostic and therapeutic endoscopy, Olympus is transforming the future of healthcare.
For more information, visit Olympus at www.medical.olympusamerica.com.
Media Contact
Michael Levey, Olympus, 484-896-5120, michael.levey@olympus.com
---
[1] Sindwani, R, Kumar, N. Bipolar microdebrider may reduce intraoperative blood loss and operating time during nasal polyp surgery. Ear Nose Throat Journal. 2012 Aug; 91(8):336-44.
[3] Joniau, S. et al. Long-Term Comparison Between Submucosal Cauterization and Powered
Reduction of the Inferior Turbinate. Laryngoscope, 2006 Sept; 116:1612–1616.