Olympus Expands Its Endoscope Reprocessing Portfolio to Include ChanlDry Drying Cabinet, Endo SafeStack Transport Cart and Visual Reprocessing Guide
Expansion Underscores Olympus' Endoscope Protection and Infection Prevention for Device's Full Journey through Facility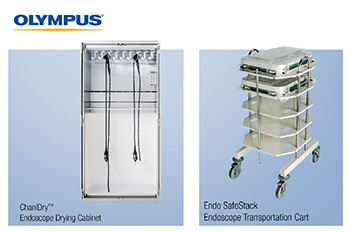 Olympus expands its endoscope reprocessing portfolio to include ChanlDry Drying Cabinet, Endo SafeStack Transport Cart and Visual Reprocessing Guide. ChanlDry is designed in keeping with research that shows that disinfected scopes stored in drying cabinets are less likely to develop bacterial contamination. Endo SafeStack transport carts help protect scopes from jostling during transport and allow for single-glance differentiation between clean and dirty scopes. The Visual Reprocessing Guide provides video support for the multiple steps required to clean the scope.
CENTER VALLEY, Pa., (May 17, 2018) – Olympus, a global technology leader in designing and delivering innovative solutions for medical and surgical procedures, among other core businesses, announced today the expansion of its Cleaning, Disinfection and Sterilization portfolio to include the ChanlDryTM Drying Cabinet. Developed to complete a critical step in reprocessing, ChanlDry is designed to thoroughly dry the interior working channels of an endoscope, as well as the external components. Olympus also announced the addition of the Endo SafeStack to its portfolio, an endoscope transport system designed to prevent damage to scopes during transport as well as to better track and separate clean and dirty scopes.These new additions supporting endoscope reprocessing and management underscore Olympus' commitment to infection prevention during the endoscope's journey through a facility.
For more than a decade, drying cabinets have been studied and discussed by professional societies such as AAMI, AORN, ASGE, SGNA and the CDC. The research has pointed to evidence that disinfected scopes stored in drying cabinets are less likely to develop bacterial contamination associated with retained moisture. AORN 2016 guidelines included a recommendation for storing flexible endoscopes in drying cabinets.
The Olympus ChanlDry Drying Cabinet offers flexible drying options and a storage environment which meets or exceeds society guidelines. The ChanlDry Drying Cabinet is equipped with a drying system that continually blows pressurized, HEPA-filtered air through endoscope channels while also circulating HEPA-filtered air around the exterior of the endoscopes. Continuous ventilation eliminates residual moisture that can lead to bacterial growth. A maximum pressure output ensures sensitive endoscope channels will be dried without being damaged by excessive air pressure.
Benefits of the ChanlDry solutions include the following:
Flexible air options including hospital-grade air or compressors to meet the diverse needs of healthcare facilities.
Quick Connect Manifold enables easy handling and connection of hoses to air supply.
Lower manifold connection complements the average height of nurses.
A simple squeeze and release mechanism allows for fast, easy air connections to most endoscopes.
Continual air flow through each connection keeps the channels dry.
The compressor membrane dryer removes moisture before pushing air through endoscope channels.
Full compliance with society guidelines ensures JCAHO inspection readiness.
Additionally, Olympus is incorporating the Endo SafeStack into its portfolio of reprocessing solutions, through an exclusive distributorship with Meditech Endoscopy Limited, a UK-based, design, development and manufacturing company, specializing in Endoscopy.The Endo SafeStack is a combination tray, cart and liner system that provides a secure method for transporting endoscopes and a clear process for identifying clean and contaminated endoscopes. Infection prevention specialists know that scratched or damaged endoscopes can lead to expensive repairs and lost procedure time. Endo SafeStack protects scopes using a patented design that secures scopes during transport; lockable castors that keep the transport cart stationary and an interlocking groove design that allows trays to be easily stacked. For prevention of cross-contamination or reuse of dirty scopes, a color coded liner (green for clean and red for dirty) enables single-glance identification of clean and dirty scopes. The three-part, sterilized, disposable liner system mitigates the risk of cross contamination and reduces clean/dirty endoscope confusion in busy reprocessing/procedure rooms.
To complement these infection control introductions, Olympus further introduces the Visual Reprocessing Guide for the TJF-Q180V. The step-by-step video guide walks the reprocessing technician through each required action in the cleaning of the endoscope. Olympus gathered feedback from a panel of reprocessing technicians in the making of this user-friendly guide. The Visual Reprocessing Guide is available immediately to users of the TJF-Q180V through the Olympus America online portal, OlympusConnect. Over time, this on-demand guide will be expanded to include additional Olympus endoscopes.
"In an era of antibiotic-resistant bacteria, we share a responsibility with our customers to maintain the safety of endoscopes," said Kurt Heine Group Vice President, Endoscopy Division at Olympus America Inc. "From endoscopic procedures to transport, reprocessing and storage, endoscopes are at risk of jostling-related damage or retained moisture that can invite bacteria. A strategy to provide more than disinfection but also drying and transport protection will aid in the fight against bacteria. Our video guide coupled with our new transport and storage products will help technicians fight against bacteria and protect their valuable equipment during an endoscope's complete journey throughout the day."
Attendees of SGNA are encouraged to see the ChanlDry solution, Endo SafeStack and Visual Reprocessing Guide at the Olympus booth 801 at SGNA, May 20-22 in Orlando. For more information, please call 1-800-848-9024 or visit us at http://medical.olympusamerica.com.
# # #
About Olympus Medical Systems Group
Olympus is a global technology leader, crafting innovative optical and digital solutions in medical technologies; life sciences; industrial solutions; and cameras and audio products. Throughout our nearly 100-year history, Olympus has focused on being true to society and making people's lives healthier, safer and more fulfilling.
Our Medical Business works with health care professionals to combine our innovative capabilities in medical technology, therapeutic intervention, and precision manufacturing with their skills to deliver diagnostic, therapeutic and minimally invasive procedures to improve clinical outcomes, reduce overall costs and enhance quality of life for patients. For more information, visit medical.olympusamerica.com.