Olympus Bipolar TURP with Plasma Resection Study Demonstrates Procedure Cost-Savings Compared to Monopolar TURP
Showing a 23.1% Cost Savings per Procedure, New Study Builds Upon Established Clinical Evidence of Bipolar TURP Benefits, Including Lower Frequency of Adverse Events and Complications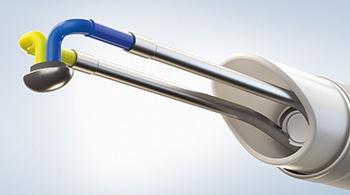 New Baker Tilly study shows that the average total Olympus bipolar TURP cost per case is $1,100 lower than monopolar TURP, with a 23.1% cost savings per procedure. TURP is designed to treat enlarged prostate, which affects approximately 60 percent of men age 60 or older. The study complements the established body of published literature showing lower frequency rates of adverse events and complications for bipolar TURP, as compared to monopolar TURP.
Center Valley, PA (September 26, 2017) - Olympus, a global technology leader in designing and delivering innovative solutions for medical and surgical procedures, among other core businesses, announced today the results of a study conducted by Baker Tilly Virchow Krause, LLP, an economic consulting firm, showed that average total bipolar TURP cost per procedure is approximately $1,100 lower than monopolar TURP, amounting to a 23.1 percent cost savings.
The study, entitled, "Transurethral Resection of the Prostate (TURP): A Cost Analysis of Bipolar and Monopolar Technologies," complements the established body of published literature that has shown superior clinical benefits of bipolar TURP compared to monopolar TURP, including lower frequency of adverse events and complications. The study identified physicians across the United States as bipolar or monopolar users and reviewed the Medicare cost profiles of their TURP procedures to identify differences in total procedure cost related to the clinical management of these cases. The full report can be found at http://wsaua.org/vanbc17/wp-content/uploads/2017/06/Poster-5-2017.pdf and will be included in poster and podium presentations at American Urological Association (AUA) regional conferences across the nation this summer and fall.
Bipolar plasma resection is a type of TURP procedure that has benefits from the safety of performing resection or vaporization in saline. It is designed for use when surgical intervention is indicated for benign prostatic enlargement. Enlarged prostate, or benign prostatic hyperplasia (BPH), affects approximately 60 percent of men age 60 or older. The percentage increases to 80-90 percent in those over age 80. Approximately 150,000 men have TURP procedures each year in the U.S. ¹
Olympus' plasma portfolio provides a safe, cost-efficient and easy-to-use solution for bipolar TURP. The newest addition to the plasma portfolio, the Plasma-OvalButton, is a revolutionary vaporization electrode. Its shape, combined with an easy-to-learn vaporization technique, results in well-coagulated, smooth tissue. Plasma vaporization and resection is safely performed in saline, while the plasma corona reduces the penetration depth of energy, affecting only localized tissue.
Despite potential cost differences that may vary across healthcare systems, there was a resulting total cost savings in the bipolar TURP study arm due to lower cost of overall clinical management. A key driver of the resulting savings for bipolar TURP is shown to be related to the fact that fewer bipolar cases are admitted as inpatient procedures, 12.7 percent vs. 21.5 percent (p<.001) Additionally, it is important to note that the study showed that bipolar procedures, when admitted as inpatient procedures, are less expensive than monopolar procedures:
Inpatient bipolar cost, when occurring, was less expensive than monopolar, averaging ,167 for bipolar vs. ,179 for monopolar, making bipolar inpatient procedures 27 percent less expensive.
Inpatient bipolar procedures tended to result in a shorter inpatient length of stay, with 3.5 days for bipolar compared to 5.0 days for monopolar.
Fewer bipolar case patients required intensive care unit (ICU) stays than monopolar (8 percent bipolar vs. 28 percent monopolar), further driving inpatient cost savings.
In addition to cost savings per TURP procedure, the Olympus plasma platform can be used for other Urology and Gynecology procedures, including transurethral resection of bladder tumors (TURBT) and transcervical resection. This system versatility may bring additional cost savings to facilities already utilizing the Olympus plasma vaporization and resection platform for TURP due to minimal outlay of additional capital cost.
"The enormous pressure physicians and facilities face to reduce costs is constantly being weighed against the quality of care being delivered," said lead author of the study David A. Gregory, MPA, Baker Tilly. "Olympus is wise to pursue proof points that help internal teams of healthcare organizations assess equipment that will not only improve quality and patient experience but also save money."
"We have long noted that reduced length-of-stay and reductions in complications that come from our bipolar approach should reasonably be linked to reductions in cost," said Randy Clark, Group Vice President of the Surgical Division at Olympus America Inc. "But having a quantifiable amount as impressive as revealed by the Baker Tilly study gives us even greater confidence in the superiority of our product, now as much for its cost benefits as its clinical benefits – and just in time for National Prostate Health Month."
Gregory's co-authors of the Olympus-sponsored study were Brittany E. Blau, MPH and Christina L. Cool, MPH.
To learn more about the Olympus bipolar offering, please call 1-800-848-9024 or visit us at http://medical.olympusamerica.com.
# # #
About Baker Tilly Virchow Krause, LLP (bakertilly.com)
Baker Tilly Virchow Krause, LLP (Baker Tilly) is a nationally recognized, full-service accounting and advisory firm whose specialized professionals connect with clients and their businesses through refreshing candor and clear industry insight. With approximately 2,700 employees across the United States, Baker Tilly is ranked as one of the 15 largest accounting and advisory firms in the country. Headquartered in Chicago, Baker Tilly is an independent member of Baker Tilly International, a worldwide network of independent accounting and business advisory firms in 147 countries, with 30,000 professionals. The combined worldwide revenue of independent member firms is $3.2 billion.
About Olympus Medical Systems Group
Olympus Medical Systems Group, a division of global technology leader Olympus, develops solutions for healthcare professionals that help improve clinical outcomes, reduce overall costs and enhance quality of life for their patients. By enabling less invasive procedures, innovative diagnostic and therapeutic endoscopy, and early stage lung cancer evaluation and treatments, Olympus is transforming the future of healthcare. For more information visit Olympus at www.medical.olympusamerica.com.
---
1 http://www.urologyhealth.org/urologic-conditions/benign-prostatic-hyperplasia-(bph)/treatment/surgery