Olympus Announces Market Availability of the New TJF-Q190V Duodenoscope
Latest-Generation Duodenoscope Offers Advanced Visualization, More Precise Handling, and Innovative Infection Prevention Features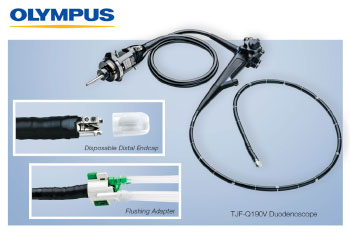 Olympus Announces the U.S. Market Availability of the TJF-Q190V Duodenoscope, which Offers Improved Imaging and Further Enhanced Therapeutic Maneuverability, as well as Safety Features Designed to Further Improve Reprocessing Efficiency, Including a Disposable Distal Cover and a Manual Flushing Adapter.
CENTER VALLEY, Pa., (June 1, 2020) – Olympus, a global technology leader in designing and delivering innovative solutions for medical and surgical procedures, announced today the market availability of the TJF-Q190V duodenoscope in the U.S. This newest-generation duodenoscope incorporates advancements that provide physicians with improved imaging and further enhanced therapeutic maneuverability for the treatment of patients requiring ERCP (endoscopic retrograde cholangiopancreatography), a highly challenging procedure.
The advanced visualization and more precise handling features of the duodenoscope include:
An expanded vertical field of view that is 20% greater than the previous-generation duodenoscope, allowing for improved cannulation efficiency.
Incorporation of High Force Transmission technology, enabling responsive maneuverability and clear tactile feedback for precise control during the procedure.
Brighter Narrow Band Imaging (NBI) and dual guidewire locking at the distal end that enables reliable locking of 0.035-inch and 0.025-inch guidewires.
The TJF-Q190V duodenoscope also includes safety features designed to further improve the efficiency of reprocessing including a disposable distal cover and manual flushing adapter. These safety enhancements respond to the FDA's call for duodenoscopes with disposable components that improve access to the elevator mechanism for ease of reprocessing.
Innovative infection prevention features:
The sterile, clear, single-use distal cover is destroyed upon removal post-procedure, preventing the possibility of reuse.
A first-of-its-kind, proprietary distal-end flushing adaptor facilitates consistent and repeatable flushing of the distal end.
New waterproof scope connector minimizes the risk of liquid ingress.
"Olympus endoscopes have earned a well-deserved reputation as the 'gold standard' for our continued innovation in visualization and handling," said Kevin Mancini, Group Vice President for Endoscopy, Olympus America Inc. "The TJF-Q190V pushes that standard further — this newest-generation duodenoscope includes important clinical advancements while also incorporating design features for more efficient reprocessing. We are thrilled for the full market launch of this product, which signifies our commitment to keeping patients safe while also expanding the capabilities of physicians."
Premium Protection Plan
Olympus is offering unprecedented trade-in values for older generation duodenoscopes to hasten the market transition to this new duodenoscope. In addition, Olympus is including in each sale a Premium Protection Plan that covers service inspections at every 100 uses or annually, whichever comes first. The plan also includes OEM parts and repair performed by OEM-trained technicians in an FDA-regulated facility, as well as protection for three years covering all maintenance and repair.
Post-market Surveillance
Olympus continues its close collaboration with the U.S. FDA in support of the launch and ongoing support of the TJF-Q190V. Pursuant to the 522 Order from the FDA, Olympus is engaging in new post-market surveillance studies for the TJF-Q190V, including human factors and sampling & culturing. These studies will further the understanding of how Olympus can better prevent the risk of infection, an important part of the company's corporate mission. Olympus is committed to working in partnership with our customers, medical societies, and regulatory authorities to keep patients safe while providing physicians the most advanced tools and technology for accurate and effective diagnosis and treatment.
See the Olympus America website for more details about the TJF-Q190V duodenoscope: https://medical.olympusamerica.com/products/tjf-q190v-duodenoscope
# # #
About Olympus Medical Systems Group
Olympus is a global technology leader, crafting innovative optical and digital solutions in medical technologies; life sciences; industrial solutions; and cameras and audio products. Throughout our 100-year history, Olympus has focused on being true to society and making people's lives healthier, safer and more fulfilling.
Our Medical Business works with health care professionals to combine our innovative capabilities in medical technology, therapeutic intervention, and precision manufacturing with their skills to deliver diagnostic, therapeutic and minimally invasive procedures to improve clinical outcomes, reduce overall costs and enhance quality of life for patients. For more information, visit medical.olympusamerica.com.