Olympus Announces Launch of Next Generation Electrosurgical Generator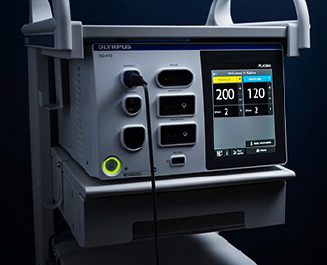 Olympus announces availability of its next generation electrosurgical generator
CENTER VALLEY, Pa., (June 5, 2023) – Olympus Corporation, a global medical technology company committed to making people's lives healthier, safer and more fulfilling, announced market availability of its newest electrosurgical generator for use in the treatment of bladder cancer and enlarged prostate.
The ESG-410 Electrosurgical Generator supports options and efficiencies in the treatment of NMIBC (non-muscle-invasive bladder cancer) and benign prostatic hyperplasia (BPH), or enlarged prostate, by providing an array of resection loops, band electrodes and vaporization buttons and needles.
Compared to its predecessor the ESG-400, the ESG-410 is designed with larger capacitors that allow for better plasma stability during ignition. The generator requires less energy for ignition than its predecessor1 and offers enhanced procedural efficiency in BPH resections due to faster tissue removal because of reliable ignition of larger resection loops.2
Other features of the ESG-410 include:
Faster ignition and improved plasma stability without tissue contact with large, medium and band loops and oval button compared to the ESG-400.3
A larger 8.4" LCD touch screen than the ESG-400.
Wireless foot pedals. Wired options are available.
The ESG-410 Electrosurgical Generator, with its accessories and ancillary equipment, is intended for cutting and coagulation of tissue in open, laparoscopic and endoscopic surgery and should only be used by a qualified physician in an adequate medical environment. Improper use or use of incompatible equipment with this electrosurgical generator can lead to excessive or incorrect HF and cause thermal or other injuries for the patient and/or operator.
All plugs must be securely inserted into the corresponding sockets for proper use. Be aware that if the mains plug is accidentally disconnected during a procedure, the electrosurgical generator immediately turns off and this can result in complications for the patient. Please refer to the instructions for use prior to usage.
May marked Bladder Cancer Awareness Month, and the American Cancer Society estimates that more than 82,000 cases of bladder cancer will be diagnosed this year with an estimated 16,700 deaths from the disease.4 Studies have shown the improved diagnostic accuracy along with greater surgical efficiency and faster recovery from treatment when physicians combine the use of Narrow Band Imaging™ (NBI™) technology and bipolar plasma vaporization to treat bladder cancer.5 NBI is not intended to replace histopathological sampling as a means of diagnosis.
BPH is a common problem as it will affect 50% of men between the ages of 51 and 60 and up to 90% of men over the age of 80.6 Plasma therapy is one of several treatment options for BPH by which plasma energy is used to vaporize enlarged prostate tissue. Plasma therapy may cause blood in the urine, irritation of the bladder, irritation of the urethra or retrograde ejaculation. When considering treatment, individuals are encouraged to speak with their healthcare provider to identify options that are best for them.
Visit bphtherapy.com for more information about BPH and treatment options or visit the Olympus urology page for more information on the complete urology portfolio.
# # #
At Olympus, we are committed to Our Purpose of making people's lives healthier, safer and more fulfilling. As a global medical technology company, we partner with healthcare professionals to provide best-in-class solutions and services for early detection, diagnosis and minimally invasive treatment, aiming to improve patient outcomes by elevating the standard of care in targeted disease states.
For more than 100 years, Olympus has pursued a goal of contributing to society by producing products designed with the purpose of delivering optimal outcomes for its customers around the world. For more information, visit medical.olympusamerica.com.
1 Data on file with Olympus TREP_100-181-562
2 Data on file with Olympus TREP_100-181-562 DVERP_100-165-551
3 Data on file with Olympus as of 04/2021
4 American Cancer Society, "Key Statistics for Bladder Cancer." Rev. Jan. 13, 2023
5 Stănescu, F.; Geavlete, B; Georgescu, D; et al. JML, "NBI - plasma vaporization hybrid approach in bladder cancer endoscopic management." Pub. June 2014
6 American Urological Association, Urologyhealth.org, "Urology A-Z: Benign Prostatic Hyperplasia." Updated Sept. 2021