Olympus Announces FDA Clearance of New Endoscopy System and Compatible Endoscopes
The EVIS X1™ endoscopy system offers physicians new ways to view gastrointestinal anatomy for the purpose of diagnosing, treating, and observing GI diseases and disorders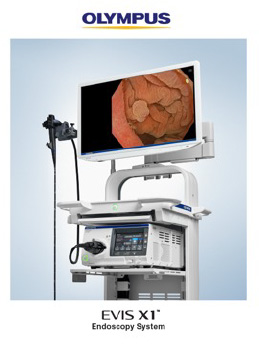 CENTER VALLEY, Pa., (May 2, 2023) – Olympus, a global technology leader in designing and delivering innovative solutions for medical and surgical procedures, announced today the FDA clearance of the new EVIS X1 endoscopy system, along with two compatible gastrointestinal endoscopes: the GIF-1100 gastrointestinal videoscope indicated for use within the upper digestive tract including the esophagus, stomach, and duodenum; and the CF-HQ1100DL/I colonovideoscope indicated for use within the lower digestive tract including the anus, rectum, sigmoid colon, colon, and ileocecal valve.i
Olympus® GI endoscopy systems are used by physicians to help them to diagnose, treat, and observe diseases and disorders of the upper and lower GI tract such as acid reflux, ulcers, Crohn's disease, Celiac disease, and colorectal cancer. One of the most common uses of an endoscope is for screening colonoscopy during which a physician examines the lining of the colon and can remove any potentially cancerous growths, known as polyps. The addition of new imaging technologies may assist physicians in visualizing abnormalities.
"We are thrilled that we will soon be able to bring this new endoscopy system to physicians and their patients in the U.S.," said Richard Reynolds, President of the Medical Systems Group for Olympus America, Inc. "As a leading medical technology company, Olympus strives to offer physicians the most advanced technologies for minimally invasive procedures such as GI endoscopy."
The EVIS X1 endoscopy system features three new enhancements designed to assist physicians in visualizing GI bleeds and anatomical structures. The new technologies are enabled by the replacement of the Xenon bulb in the EVIS EXERA™ III system with five LEDs that can produce other light combinations in addition to white light.i The new technologies include:
RDI™ (Red Dichromatic Imaging) technology designed for optical-digital observation using red dichromatic narrow band light and green illumination light.
TXI™ (Texture and Color Enhancement Imaging) technology designed to emphasize tonal changes, patterns, and image outlines. It is also designed to correct the brightness of dark areas.
BAI-MAC™ (Brightness Adjustment Imaging with Maintenance of Contrast) technology designed to maintain the brightness of the bright part of the endoscopic image and correct the brightness of the dark part of the endoscopic image.
The proven optical-digital technology NBI™ (Narrow Band Imaging™) technology continues to be featured in this next-generation endoscopy system. NBI technology, used to enhance the observation of mucosal tissue, works by filtering white light into specific light wavelengths that are absorbed by hemoglobin and penetrate only the surface of human tissue. As a result, capillaries on the mucosal surface appear brown and veins in the submucosa appear cyan on the monitor. NBI technology is recognized as an important technology by the ASGE (American Society for Gastrointestinal Endoscopy) for adopting real-time imaging-assisted endoscopic targeted biopsy during endoscopic surveillance of Barrett's esophagusii and real-time endoscopic assessment of the histology of diminutive colorectal polyps.iii
NBI, RDI, TXI and BAI-MAC technologies are not intended to replace histopathological sampling as a means of diagnosis. These are adjunctive tools for endoscopic examination that can be used to supplement Olympus white light imaging.
The EVIS X1 Endoscopy System will be on display and demonstrated in Olympus Booth #3820 at the DDW (Digestive Diseases Week) meeting in Chicago, May 7-9.
Information about the EVIS X1 Endoscopy System will be available here: https://info.olympusamericamarketing.com/x1.
# # #
About Olympus
As a leading medical technology company, Olympus uses innovative capabilities in medical technology, therapeutic intervention, and precision manufacturing to help healthcare professionals deliver diagnostic, therapeutic, and minimally invasive procedures to improve clinical outcomes, reduce overall costs, and enhance the quality of life for patients and their safety. Olympus' Medical portfolio includes endoscopes, laparoscopes, and video imaging systems, as well as surgical energy devices, system integration solutions, medical services, and a wide range of endotherapy instruments for endoscopic and therapeutic applications. For more information, visit medical.olympusamerica.com.
i Data on file with Olympus as of 16/Apr/2023.
ii https://pubmed.ncbi.nlm.nih.gov/26874597/ - ASGE Technology Committee et al. "ASGE Technology Committee systematic review and meta-analysis assessing the ASGE Preservation and Incorporation of Valuable Endoscopic Innovations thresholds for adopting real-time imaging-assisted endoscopic targeted biopsy during endoscopic surveillance of Barrett's esophagus." Gastrointestinal endoscopy vol. 83,4 (2016): 684-98.e7. doi:10.1016/j.gie.2016.01.007
iii https://pubmed.ncbi.nlm.nih.gov/25597420/ - ASGE Technology Committee et al. "ASGE Technology Committee systematic review and meta-analysis assessing the ASGE PIVI thresholds for adopting real-time endoscopic assessment of the histology of diminutive colorectal polyps." Gastrointestinal endoscopy vol. 81,3 (2015): 502.e1-502.e16. doi:10.1016/j.gie.2014.12.022