Novel iTind Procedure Now Included in Treatment Guideline for Lower Urinary Tract Symptoms Caused by Enlarged Prostate
Temporary Implanted Prostatic Devices Added to AUA Clinical Practice Guideline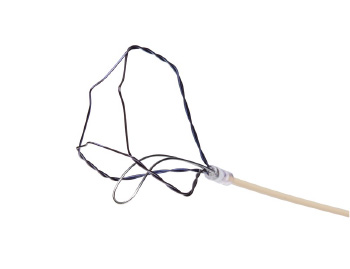 The iTind™ procedure reshapes the prostatic urethra without burning or cutting out the prostate.
CENTER VALLEY, Pa. (September 28, 2023) – Olympus Corporation, a global medical technology company committed to making people's lives healthier, safer, and more fulfilling, announced today that its iTind™ procedure is now included in the American Urological Association (AUA) clinical practice guideline for management of lower urinary tract symptoms (LUTS) attributed to benign prostatic hyperplasia (BPH), also known as enlarged prostate. The iTind procedure is reflected in the new procedure category, Temporary Implanted Prostatic Devices (TIPD).i The addition of the TIPD category is based on expert opinion reflecting peer-reviewed treatment recommendations and research updates.
The minimally invasive iTind procedure involves the placement of a temporarily implanted nitinol device that reshapes the prostatic urethra without burning or cutting out the prostate. The device remains in place for five to seven days while the patient is at home. Clinical data show that, upon removal, patients experience rapid and effective relief of their symptoms.ii,iii,iv The iTind procedure is an effective alternative to pharmaceutical therapy, as well as an alternative to surgeries and permanent implants, and is proven to relieve symptoms without affecting sexual and ejaculatory functionii,iii,iv or urinary continence.iii
"We are very pleased with the AUA's decision to update the clinical treatment guideline — a great close to September's National Prostate Health Month. As a result of this guidance, more physicians will be aware of the novel iTind procedure for the minimally invasive surgical treatment of LUTS secondary to BPH," said Harmeet Chhabra, Global Director for Health Economics and Market Access at Olympus Corporation. "This guidance reflects compelling clinical evidence and positive clinical experience with the iTind procedure."
BPH is a common health problem for men as they age, affecting approximately 50% of men between the ages of 51 and 60 and up to 90% of men over the age of 80. Symptoms of BPH include frequent urination with a sense of urgency and a weak urinary stream, and excessive urination at night.v Suffered over time, these symptoms can have a detrimental effect on quality of life for men and their families.vi
The iTind procedure is intended for the treatment of symptoms due to urinary outflow obstruction secondary to BPH in men aged 50 and above. Patients should consult their doctor to see if the iTind procedure is right for them. As with any medical procedure, implantation of the iTind device comes with the possibility of side effects, including pelvic discomfort, blood in urine, and/or painful or urgent urination. In rare cases, the iTind device may cause urinary tract infection or a sudden difficulty to urinate.
More information about the iTind procedure is available at BPHTherapy.com/iTind.
# # #
About Olympus
At Olympus, we are committed to Our Purpose of making people's lives healthier, safer and more fulfilling. As a global medical technology company, we partner with healthcare professionals to provide best-in-class solutions and services for early detection, diagnosis and minimally invasive treatment, aiming to improve patient outcomes by elevating the standard of care in targeted disease states.

For more than 100 years, Olympus has pursued a goal of contributing to society by producing products designed with the purpose of delivering optimal outcomes for its customers around the world. For more information, visit medical.olympusamerica.com.
i Sandhu JS, Bixler BR, Dahm P, et al. Management of lower urinary tract symptoms attributed to benign prostatic hyperplasia (BPH): AUA Guideline amendment 2023. J Urol. 2023;10. doi.org/10.1097/JU.0000000000003698
ii Chughtai B, Elterman D, Shore N, et al. The iTind Temporarily Implanted Nitinol Device for the Treatment of Lower Urinary Tract Symptoms Secondary to Benign Prostatic Hyperplasia: A Multicenter, Randomized, Controlled Trial [published online ahead of print, 2020 Dec 26.Urology. 2020;S0090-4295(20)31520-X. doi:10.1016/j.urology.2020.12.022
iii De Nunzio C, Cantiello F, Fiori C, et al. Urinary and sexual function after treatment with temporary implantable nitinol device (iTind) in men with LUTS: 6-month interim results of the MT-06-study. World J Urol. 2021;39(6):2037-2042. doi:10.1007/s00345-020-03418-2
iv Amparore D, De Cillis S, Schulman C, Kadner G, Fiori C, Porpiglia F. Temporary implantable nitinol device for benign prostatic hyperplasia-related lower urinary tract symptoms: over 48-month results [published online ahead of print, 2023 Jun 23]. Minerva Urol Nephrol. 2023;10.23736/S2724-6051.23.05322-3. doi:10.23736/S2724-6051.23.05322-3
v What is Benign Prostatic Hyperplasia (BPH)? UrologyHealth.org. https://www.urologyhealth.org/urology-a-z/b/benign-prostatic-hyperplasia-(bph). Updated June 2023. Accessed September 20, 2023.
vi Alcaraz A, Carballido-Rodríguez J, Unda-Urzaiz M, et al. Quality of life in patients with lower urinary tract symptoms associated with BPH: change over time in real-life practice according to treatment--the QUALIPROST study. Int Urol Nephrol. 2016;48(5):645-656. doi:10.1007/s11255-015-1206-7