ENDOCUFF Use Is Shown To Reduce Lifetime Direct Medical Costs and Improve Health Outcomes of Interval Colorectal Cancer Screening
Economic Model Following Patients through Screening Showed That, As Compared to Standard Colonoscopy, ENDOCUFF Demonstrated Cost-Effectiveness and Improved Patient Outcomes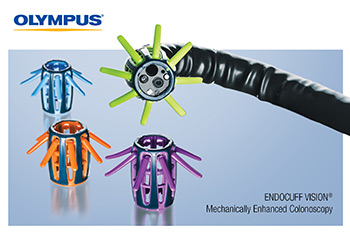 Study shows ENDOCUFF reduces lifetime direct medical costs and improves health outcomes of interval colorectal cancer screening. Results were presented at a poster session at DDW on Sunday, June 3, 2018.
CENTER VALLEY, Pa., (June 4, 2018) – Olympus, a global technology leader in designing and delivering innovative solutions for medical and surgical procedures, among other core businesses, announced today the results of a cost-effectiveness analysis authored by Tiffany M. Yu, Alison Tradonsky, Jun Tang, PhD, Renée JG Arnold, PharmD, RPh and Navigant Consulting, Inc., entitled "Cost-Effectiveness of Adding ENDOCUFFTM to Colonoscopies for Interval Colorectal Cancer Screening," which provides a cost-effectiveness analysis comparing lifetime direct medical costs and health outcomes of interval colorectal cancer (CRC) screening using ENDOCUFF-assisted colonoscopy (EC) vs standard colonoscopy (SC).
A health economics model of CRC screening, treatment and outcomes was developed to evaluate the average screening patient, beginning at age 50 over a lifetime. Care and costs associated with screening, CRC diagnosis, progression, remission and death were evaluated. The model determined that the use of ENDOCUFF is expected to result in an absolute lifetime CRC risk reduction of 1.0%, representing a 33.7% relative risk reduction compared to standard colonoscopy. Numbers needed to treat estimates for EC further indicated that for 102 patients screened, one CRC cancer is avoided and for every 562 patients screened, one CRC death is avoided.
In addition to clinical benefit, a cost analysis of EC was conducted from different audience perspectives. For health plans and accountable care organizations (ACOs), EC was shown to provide cost savings, reducing lifetime cost of care by $199 and $87 respectively. From the medical device purchaser perspective, ENDOCUFF lifetime costs are estimated at $112.
The study further found that the incremental cost-effectiveness ratios for survival with ENDOCUFF as compared to standard colonoscopy were $4,421 per life-year gained, $9,843 per quality-adjusted life years (QALY) gained and $11,505 per avoided CRC case, far below the $50,000 willingness-to-pay threshold commonly discussed in the U.S.
The ENDOCUFF device attaches to the distal end of a colonoscope, with multiple flexible "arms" that fold within the product during intubation and forward movement and open out when drawn backward, thereby controlling the field of view. Olympus ENDOCUFF received FDA 510(k) clearance in 2016 for the claim that the device results in a statistically significant and clinically relevant improvement in adenoma detection rate (ADR), as compared with unassisted colonoscopy, due to its design which enables manipulation of bowel folds for maximized visualization of mucosa. For each 1% increase in ADR, there is a 3% reduction in the risk of interval cancer.
As of 2016, the ENDOCUFF was discontinued and replaced with the next generation, ENDOCUFF VISION®. Olympus Corporation of the Americas is the exclusive distributor of the device in the U.S. and Canada. ENDOCUFF VISION is a 510(k) cleared, second generation, single-use device designed to give an optimal view of the entire colon throughout a colonoscopy procedure. Compared to the original ENDOCUFF, ENDOCUFF VISION has a single row of longer arms. These changes deliver yet more tip control throughout the colon without compromising intubation and improving loop management.
"We are pleased to present such important economic findings at DDW. This research shows that ENDOCUFF improvement in ADR compared to SC can improve patient outcomes and quality of life. Additionally, the improved ADR detection reduces costs related to treating interval cancer, making it a cost-effective or cost saving solution for decision-makers," said Tiffany M Yu, lead author and Managing Consultant at Navigant Consulting, Inc.
"Studies show earlier and increased adenoma detection rate (ADR) through an ENDOCUFF-assisted colonoscopy can help with avoiding costs of later stage cancer treatments," said Kurt Heine, Group Vice President of the Endoscopy Division at Olympus America Inc. "Cost reductions, quality outcomes and patient satisfaction are important to Olympus because they are important to our customers and the patients they serve."
Results were presented at a poster session at Digestive Disease Week (DDW) in Washington, D.C., on Sunday, June 3, 2018.
# # #
About Olympus Medical Systems Group
Olympus is a global technology leader, crafting innovative optical and digital solutions in medical technologies; life sciences; industrial solutions; and cameras and audio products. Throughout our nearly 100-year history, Olympus has focused on being true to society and making people's lives healthier, safer and more fulfilling.

Our Medical Business works with health care professionals to combine our innovative capabilities in medical technology, therapeutic intervention, and precision manufacturing with their skills to deliver diagnostic, therapeutic and minimally invasive procedures to improve clinical outcomes, reduce overall costs and enhance quality of life for patients. For more information, visit medical.olympusamerica.com.