Turbinate Handpiece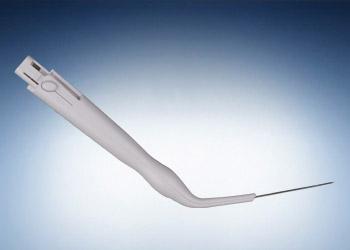 Turbinate
Turbinate Handpiece
The Olympus Somnoplasty turbinate handpiece is designed to create predictable lesions in the inferior turbinates using temperature-controlled radio-frequency (TCRF) technology.
---
Key Benefits
For local injection, inject 1.5 – 3.0 mL per turbinate. Inject enough to "balloon out" the tissue submucosally.
Place electrode submucosally until 2 mm of the insulation is buried.
Patient Selection
Patients with nasal congestion and rhinorrhea associated with inferior turbinate hypertrophy who note favorable improvement in obstruction after a nasal decongestant spray test. 
Patients with nasal congestion due to a mildly deviated septum and nasal turbinate hypertrophy.
The sleep apnea patient who notes difficulty wearing a nasal CPAP mask because of increased nasal resistance.
Patients requiring a septoplasty, rhinoplasty, or functional endoscopic sinus surgery who also have turbinate hypertrophy.
Patients requiring adjunctive treatment for rhinitis medicamentosa (RM).
Product Support
Control Unit Settings
Joules: 350 – 500
Temperature:  80°
Watts: 15
Olympus Service & Repair
Olympus offers a broad range of services to healthcare professionals and to our customers, including contact hour and peer-based training courses; information, training tools and videos on infection control and reprocessing; authorized repair services and support on Olympus equipment; and financing solutions to help your facility with acquisition of new capital equipment, accessories, and maintenance plans.
Need Help?
Cleaning, Disinfection & Sterilization
The proper cleaning, disinfection, and sterilization of Olympus equipment is equally as important as their proper use. 
Olympus Training & Proper Use
Olympus offers a variety of educational opportunities for medical and surgical healthcare professionals. 
Peer-To-Peer Training
Our Professional Education Program provides multiple types of peer-to-peer training in order to meet the specific educational needs of physicians and nurses focused on the safe and effective use of Olympus products.
Olympus University
Olympus Professional Education also offers training programs through Olympus University (OU). Geared toward nurses, reprocessing technicians and biomeds, many of the OU courses are available for nursing contact hour continuing education credit.
Visit Olympus University