Base of Tongue Handpieces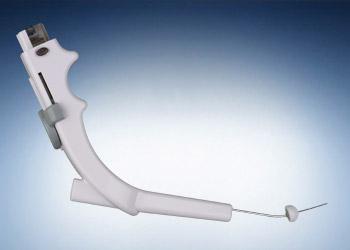 Energy
RF Energy
Base of Tongue Handpieces
Olympus Somnoplasty offers two different handpieces for base-of-tongue procedures. The dual-channel radio-frequency handpiece is designed to create predictable dual-site lesions. The single-channel radio-frequency handpiece is designed for creation of single-site lesions.
---
Key Benefits
This device is indicated for the reduction of the tongue base component in Sleep-disordered Breathing (OSA). 
Typical treatment zone is 2.5 – 3.0 cm by 2.5 – 3.0 cm in the midline and circumscribes the circumvallate papilla. Avoid being too lateral. 
Bend electrode as you approach more posteriorly in order to maintain the lesion at its proper depth (2 cm into the genioglossus muscle). 
Saline injection at the site of lesion may improve tissue volume reduction.
 
Patient Selection
Appropriate evaluation for Sleep-disordered Breathing, fiberoptic laryngoscopy, cephalometric x-rays, a sleep study and responses to validated questionnaire are recommended for diagnosis or patient selection.

It has been shown that this procedure can be performed alone or in conjunction with other procedures such as UPPP and/or nasal surgery.
Product Support
Control Unit Settings
Model 1200 Single Electrode
Model 2220 Dual Electrode
Joules
600 – 750 Joules per lesion
1200 – 1500 Joules
(600 – 750 per electrode)
Temperature
85oC
85oC
Watts
15
15
Channel Selection
Single Electrode
Dual Electrode
Olympus Service & Repair
Olympus offers a broad range of services to healthcare professionals and to our customers, including contact hour and peer-based training courses; information, training tools and videos on infection control and reprocessing; authorized repair services and support on Olympus equipment; and financing solutions to help your facility with acquisition of new capital equipment, accessories, and maintenance plans.
Need Help?
Cleaning, Disinfection & Sterilization
The proper cleaning, disinfection, and sterilization of Olympus equipment is equally as important as their proper use. 
Olympus Training & Proper Use
Olympus offers a variety of educational opportunities for medical and surgical healthcare professionals. 
Peer-To-Peer Training
Our Professional Education Program provides multiple types of peer-to-peer training in order to meet the specific educational needs of physicians and nurses focused on the safe and effective use of Olympus products.
Olympus University
Olympus Professional Education also offers training programs through Olympus University (OU). Geared toward nurses, reprocessing technicians and biomeds, many of the OU courses are available for nursing contact hour continuing education credit.
Visit Olympus University