SPiN Perc™ Localization Needles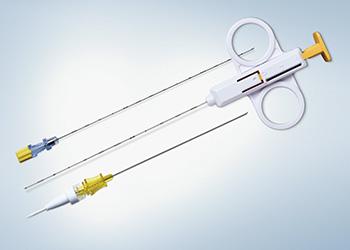 Percutaneous Devices
SPiN Perc™ Localization Needles
Tip-tracked localization needles allow physicians to place dye markers percutaneously with continuous navigation in the OR minutes before a resection takes place. 19 G needles are offered in a 1 cm or 2 cm marking zone.
---
Key Benefits
Maintain navigation throughout the entire procedure, including dye injection
Localize in the OR immediately before resection
Laser-etched ports designed to leave a dye-trail to the nodule
Marking zone options for different lesion depths and sizes
---

Potential complications which may be associated with localization prior to resection using the SPIN System may include, but are not limited to pneumothorax, bleeding, infection, and rare cases air embolism, tumor seeding and death. Attention to biopsy planning and technique and post procedural care may help to prevent or minimize potential complications.

Prior to using the Spin Navigation System™, please refer to the manufacturers instructions for use.

Product Support
Catalog Number
INS-56101
INS-56112
Item Description
SPiN Perc Localization Needle, 1 cm1
SPiN Perc Localization Needle, 2 cm2
SPiN Perc Localization Needle Size
19 G, 105 mm