SPiN Perc™ Kits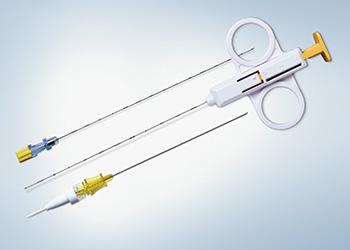 Percutaneous Devices
SPiN Perc™ Kits
With the SPiN System™, you have the power to choose your approach to reach targets endobronchially or percutaneously within one procedure setting. By transcending procedural limitations and combining multiple procedures into one, SPiN Perc kits may help speed the time to diagnosis, acquire tissue for diagnosis, and mark for treatment.1,2
---
Key Benefits
Target peripheral nodules outside the airway
Helps speed time to diagnosis through seamless integration following a navigated bronchoscopy within the same procedure setting 1
Equipped with a biopsy gun and FNA Needle to extract tissue from the area of interest.

---

Potential complications which may be associated with percutaneous lung biopsies may include, but are not limited to pneumothorax, bleeding, infection, and rare cases air embolism, tumor seeding and death. Attention to biopsy planning and technique and post procedural care may help to prevent or minimize potential complications.

Prior to using the Spin Navigation System™, please refer to the manufacturers instructions for use.

NBelanger AR, Burks AC, Chambers DM, et al. Peripheral Lung Nodule Diagnosis and Fiducial Marker Placement Using a Novel Tip-Tracked Electromagnetic Navigation Bronchoscopy System. J Bronchology Interv Pulmonol. 2019;26(1):41-48. doi:10.1097/LBR.0000000000000528


Thiboutot J, Lee HJ, Silvestri GA, Chen A, Wahidi MM, Gilbert CR, Pastis NJ, Los J, Barriere AM, Mallow C, Salwen B, Dinga MJ, Flenaugh EL, Akulian JA, Semaan R, Yarmus LB. Study Design and Rationale: A Multicenter, Prospective Trial of Electromagnetic Bronchoscopic and Electromagnetic Transthoracic Navigational Approaches for the Biopsy of Peripheral Pulmonary Nodules (ALL IN ONE Trial). Contemp Clin Trials. 2018 Aug;71:88-95. doi: 10.1016/j.cct.2018.06.007. Epub 2018 Jun 7. PMID: 29885373.
Product Support
Catalog Number
INS-56001
INS-56202
Item Description
SPiN Perc Kit1
SPiN Perc Kit, 20 cm2
SPiN Perc Needle Size
19 G, 105 mm
19 G, 155 mm
Biopsy Gun & FNA Size
20 G, 150 mm
20 G, 200 mm