SPiN Access Catheter™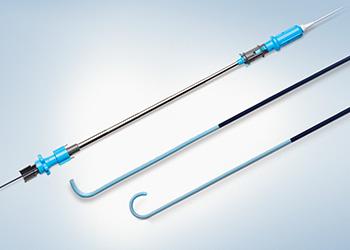 Endoscopic Devices
SPiN Access Catheter™
90- and 180-degree catheters fit down a therapeutic scope and can help guide you to your target with the SPiN Drive™ software's Steering Widget.
---
Key Benefits
More Access: Provides another option to access targets in the lung. The catheters are available in both 90° and 180° and fit down a therapeutic scope with a 2.8 mm WC or larger.
Added Guidance: Designed with an additional sensor that displays which direction to rotate the catheter to access targets.
Eliminate Blind Sampling: Engineered for compatibility with Always-On Tip Tracked™ technology. Maintain navigation guidance throughout the entire procedure – even during biopsy.
Product Support
Catalog Number

INS-59001
INS-59052
INS-59103
INS-59154
INS-59205
INS-59256
Item Description

SPiN Access Catheter, 90 Degree for use with Olympus Scopes1
SPiN Access Catheter, 180 Degree for use with Olympus Scopes2
SPiN Access Catheter, 90 Degree for use with Olympus 190 Scopes3
SPiN Access Catheter, 180 Degree for use with Olympus 190 Scopes4
SPiN Access Catheter, 90 Degree for use with Pentax Scopes5
SPiN Access Catheter, 180 Degree for use with Pentax Scopes6
Outer Diameter

2.7 mm
Working Channel

2.0 mm
Minimum Scope Working Channel

2.8 mm