Rhino-Laryngo Digital Videoscope (ENF-V2)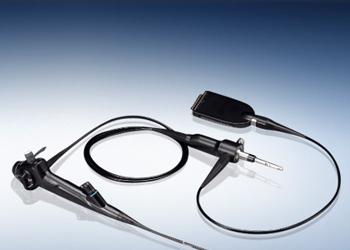 Video Laryngoscope
Rhino-Laryngo Digital Videoscope (ENF-V2)
The Olympus ENF-V2 digital video rhinolaryngoscope not only delivers some of the brightest, clearest images available from a videoscope, it also features a remarkably ultrathin distal end diameter. Even thinner than conventional routine fiberscopes, the 3.2 mm distal end design of the ENF-V2 helps facilitate insertion without compromising observation. A wide field of view and generous angulation range makes orientation and maneuverability within the nasal and nasopharyngeal lumens easier than with previous Olympus models.
---
Key Benefits
Ultrathin design: With a 3.2 mm distal end diameter and ultrathin 3.4 mm insertion tube diameter, the ENF-V2 facilitates insertion while delivering exceptional image quality.
Wide field of view: With a 90° field of view and an angulation range of 130° up and down, the ENF-V2 improves both orientation and maneuverability with the nasal and nasopharyngeal lumens.
---
Product Support
Outer Diameter Insertion Tube:
Olympus Service & Repair
Olympus offers a broad range of services to healthcare professionals and to our customers, including contact hour and peer-based training courses; information, training tools and videos on infection control and reprocessing; authorized repair services and support on Olympus equipment; and financing solutions to help your facility with acquisition of new capital equipment, accessories, and maintenance plans.
Need Help?
Cleaning, Disinfection & Sterilization
The proper cleaning, disinfection, and sterilization of Olympus equipment is equally as important as their proper use. 
Olympus Training & Proper Use
Olympus offers a variety of educational opportunities for medical and surgical healthcare professionals. 
Peer-To-Peer Training
Our Professional Education Program provides multiple types of peer-to-peer training in order to meet the specific educational needs of physicians and nurses focused on the safe and effective use of Olympus products.
Olympus University
Olympus Professional Education also offers training programs through Olympus University (OU). Geared toward nurses, reprocessing technicians and biomeds, many of the OU courses are available for nursing contact hour continuing education credit.
Visit Olympus University